Any potential customer in your region who needs an electrician will most likely search the internet for an electrical contractor in their city.
Approximately 30% of all mobile search users are looking for a business in their location, Yet 75% of users don't browse past page one of their search results.
If your website isn't optimized for local search engine optimization (SEO), you're missing out on a significant number of potential customers right in your own neighborhood.
Undoubtedly, Local SEO for electricians can help you attract these potential customers and generate more leads.
Read on as we dive into local SEO for electrical contractors, What is it? and 6 tips to help you elevate your Local SEO rankings.
What is Local SEO For Electricians?
Electrician SEO is the practice of creating and maintaining an online presence for your website to appear higher in search engines.
Local SEO for Electricians is similar, but it includes precisely tailored strategies to target users in local search.
Overall, The purpose of local SEO is to make your business more visible in local search results and generate more leads.
Most Important Ranking Signals For Local SEO
Simply said, Google determines authority in local search by measuring three variables when determining if a local search result is genuine and should be included in search results.
These factors are Relevance, Authority, and Proximity.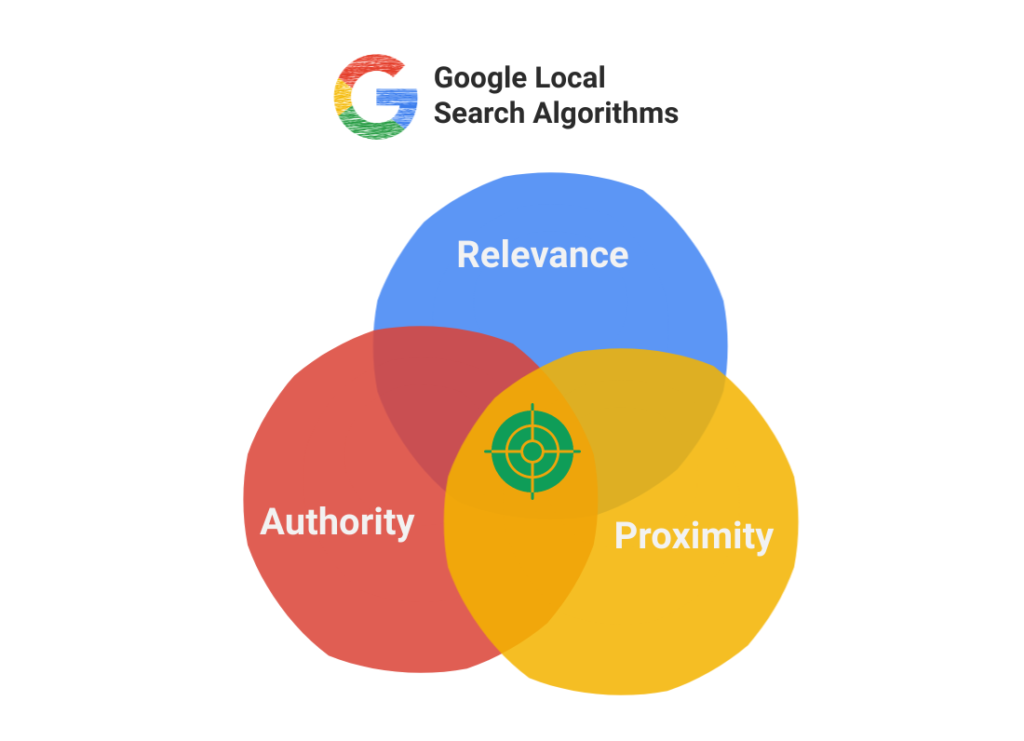 Relevance
Google looks for indicators that your website is relevant to the search result. Its best practice to add your location and local keywords on your website to show that your website is relevant to a search.
Add a phrase like "Electrical contractor in San Diego" to your website to increase your local SEO for electricians.
Authority
Google and other search engines must establish your site as a trusted resource to rank highly in local searches. Ratings, reviews, backlinks, and social mentions all contribute to your authority rating.
Proximity
Refers to the location of your business in relation to the searcher. Even when a potential customer isn't looking for an electrician in a specific area, Google uses IP addresses and geographical location to rank websites in search results.
Your business name, address, website, and phone number are the primary elements used to determine proximity. Ensure that all your business listings are up to date and contain the same information.
6 Tips to Help Boost Your Local SEO Ranking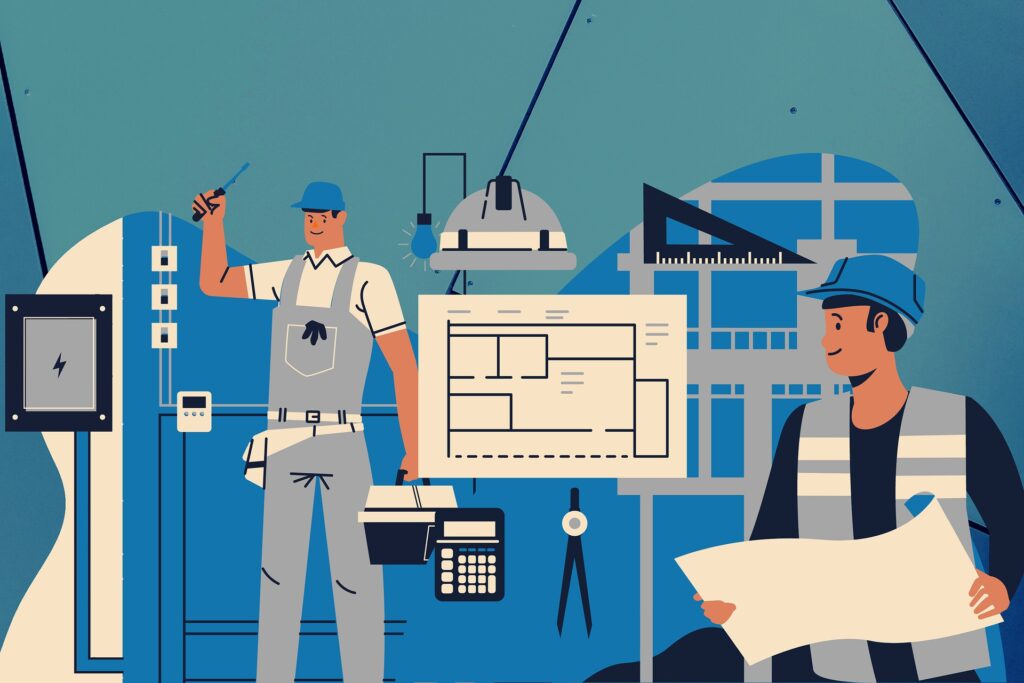 Optimize Your Electrician Website
The first element of local SEO for electrical contractors is website optimization; you'll need a website that's fast, accessible, and SEO-friendly to generate organic visitors.
By all means, Your website should follow on-page and technical SEO best practices.
This includes optimizing your website's load speed, fixing broken links, adding your target keywords into your page titles and site content, and creating a user-friendly site layout.
Make sure your website developer understands SEO and can create a site that's both search engine and user friendly. You'll have a greater chance of ranking in local search results if your website is fast, responsive, and easy to use.
Create a Google My Business Profile
Google My Business (GMB) is the primary platform where local companies, including electrical contractors, can provide information about their business to Google to be displayed in search results.
A Google My Business listing is a business page that includes your business name, address, and phone number so that Google may display that information to potential customers looking for electrical services.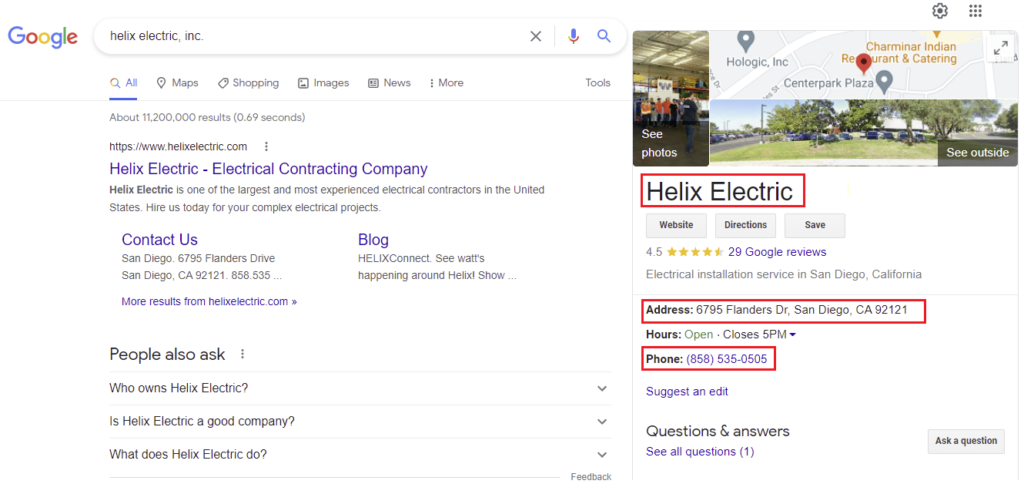 Important to realize, around 16% of businesses receive over 100 calls a month from GMB, according to a study by Brightlocal.
Google utilizes information from your Google My Business profile to display on local search results, as well as Google Maps and its local pack, for local queries.
Here are some tips to consider while improving your Google My Business profile:
Make sure your business Name, Address, and phone number are accurate.

Write the perfect business description that accurately describes your electrical services.

Choose the right business category and subcategory.
(Electrician as primary, Contractor as a subcategory)

Add images to highlight your electrical work. Such as truck photos, office photos, before and afters, and team photos.

Generate, track, and reply to Google reviews.

Use Google Posts to increase conversions and show off your brand's identity.
Create Compelling Local Content
Your website content informs visitors about what you do, how you can assist them, and how they may contact you.
Publishing content is one of the most effective ways to increase audience engagement, establish your brand's visibility, and drive sales.
47% of buyers view three to five pieces of content before interacting with a sales representative.
Targeted content attracts organic visitors by including localized keywords in your web page names, meta descriptions, and body content.
For example, if you offer electrical services in San Diego, you could target keywords like "San Diego electrician" or "electrical contractor in San Diego."
Also, You can then use these phrases on your site's electrical services to target the right customers.
Mobile Friendliness
Your website's mobile-friendliness has a direct influence on local search results.
In fact, Google has been crawling the mobile version of a site more frequently than the desktop version since 2020.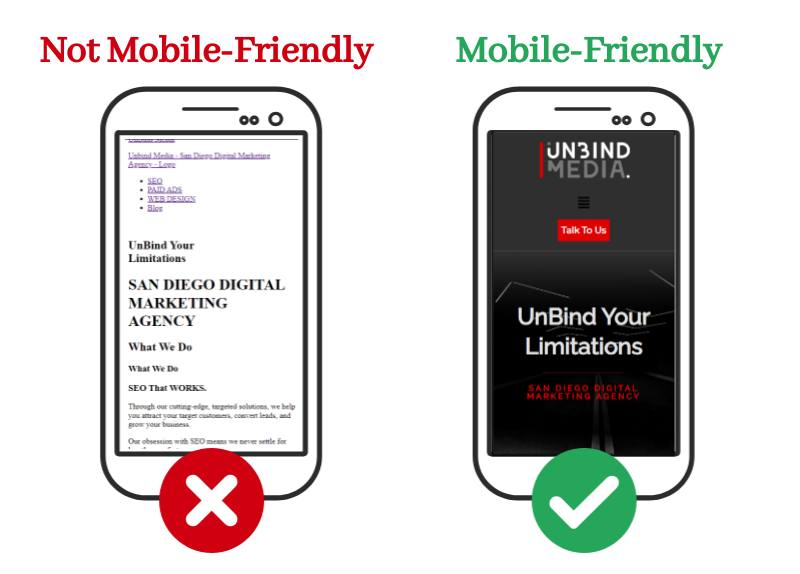 Of course, having a mobile-friendly website can also assist you in increasing organic traffic.
As a website owner, you'll want to make your site mobile-friendly so that potential customers can access it smoothly, even on a small screen.
To do this, you should develop a mobile-friendly version of your website with easy to read text, fast-loading graphics, and clear call-to-action buttons.
Build Links & Citations
Backlinks are links from other websites that point to yours and serve as a vote of confidence that your webpage is a legit and trustworthy source of information.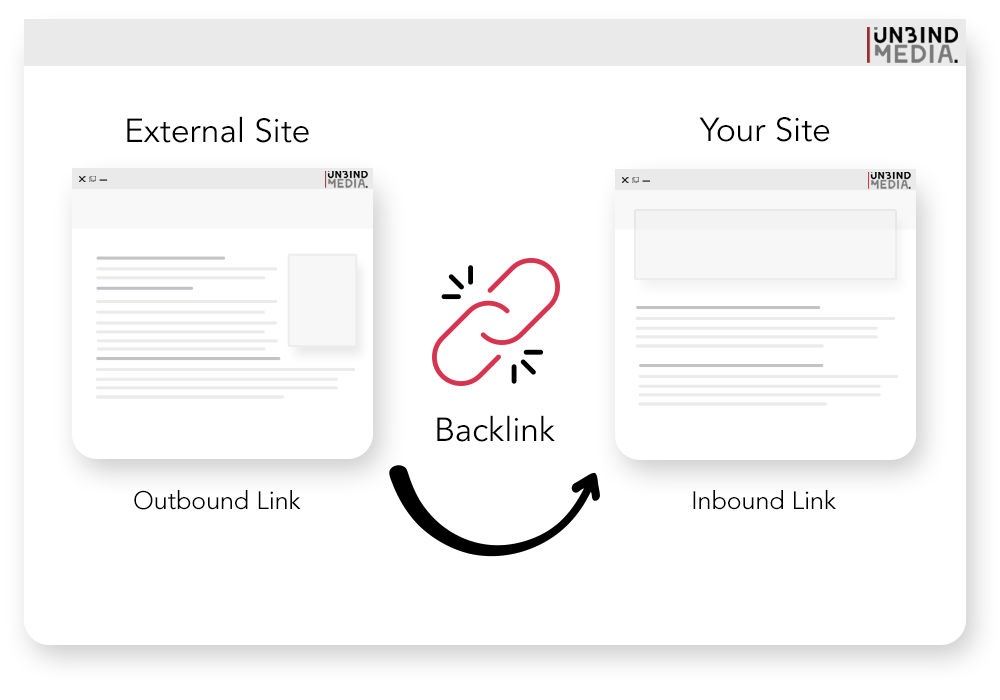 Your backlink profile is the most critical component in your site's potential to rank well. This refers to the number and quality of links pointing to your site from other websites.
The goal here is to generate high-quality links related to your industry.
Submitting your business information to directories is one way to promote your business.
Other methods include reaching out to bloggers and news editors and creating valuable content that naturally attracts links.
Get More Reviews
Reviews will determine whether or not others can discover you online: More reviews equals greater visibility and higher ranks.
The value of reviews extends much further—they are frequently one of the first things consumers check for when looking for an electrician.
As much as 92% of B2B buyers prefer to buy after reading a trusted review.
Consider this: if a prospective client is looking for an electrician and discovers that your business has the most positive reviews, they may choose you over the competition.
All in all, Positive reviews can make your electrical business stand out and help Google to see that it is legit.
Here are a few essential pointers to help you get more reviews:
Ask your customers in person to leave a review.

Make it easy for people to review your work by including a direct link on your website.

Ask for reviews through email or text messages.

Respond to both positive and negative feedback.
Electrify Your Local SEO With Unbidmedia
If you're having trouble getting your electrical company to rank in Google's local pack, or you need assistance executing a new digital marketing plan, we've got you covered.
Local SEO strategies might be perplexing, but we believe in being transparent and upfront about what we do and how successfully we do it for you.
At Unbindmedia, We make data-driven decisions to help you conquer your industry.
Get in touch with our local SEO specialists, and we will help you get started.