If you're a roofing contractor, you're probably well aware of how competitive the roofing industry is.
There are currently over 128,680 roofing contractors in the U.S., and that number is only growing as new companies emerge every year.
Chances are, your roofing business isn't the only one in your area – so you need to find ways to set yourself apart from the competition.
If you want to market your roofing company effectively, you need to have an online presence.
This means creating a website, developing a social media strategy, and using search engine optimization techniques.
A strong online presence is essential for any business, whether you're just starting out or have been in operation for years.
By having a website, social media accounts, and search engine optimization strategy in place, you're putting your brand in the best position to succeed.
There are a few roofing marketing tactics you can start implementing today that will help you see an increase in inbound leads over the next few months.
Here are 12 roofer marketing tactics that produce results in 2022.
1. Start By Building Your Brand
Branding is a crucial aspect of a successful roofer marketing campaign.
For one thing, Your company's culture and customer relationships are reflected in your brand.
Branding encompasses everything, including your logo, content tone, company colors, and visuals.
The first thing to do is to create a logo if you don't already have one. Your logo should be simple, distinctive, and relevant to your roofing business.
Your logo will be printed on all of your roofing marketing materials, including business cards, websites, and signs.
So make sure to choose a color palette that matches the rest of your marketing materials.
Consistency is essential in terms of both looks and content. Once you've decided on a brand style, stick to it.
All in all, customers should be able to readily recall and recognize your brand. The goal is to establish a consistent brand appearance that people will recognize.
2. Create a Fantastic Roofer Website
First and foremost, You must begin your roofing company venture with a professional-looking, fully working roofer website.
If you want to compete with the top roofing service providers in your area, it suffices to say that you must have a strong online presence.
Your roofing website is frequently your first impression. It must be professional, sleek, and simple to use.
Potential clients may only view one or two pages of your website before moving to your competitors', so making their experience pleasant and fruitful is vital.
When designing your website, you need to take into consideration several factors:
First, it's important to consider the overall presentation of your site. This includes the theme and how it ties in with your brand identity.
Next, you need to think about the navigation tabs and any other features that will help your users.
Your website must contain all your business contact information. This includes a phone number, an email address, and the address of your physical location.
Most importantly, adding valuable information to every page on your website will help you bring in the traffic you need to see your business grow.
3. Make It Mobile-Friendly
A mobile-friendly website is not just a nice feature anymore. It is the standard in digital marketing and most big brands have one.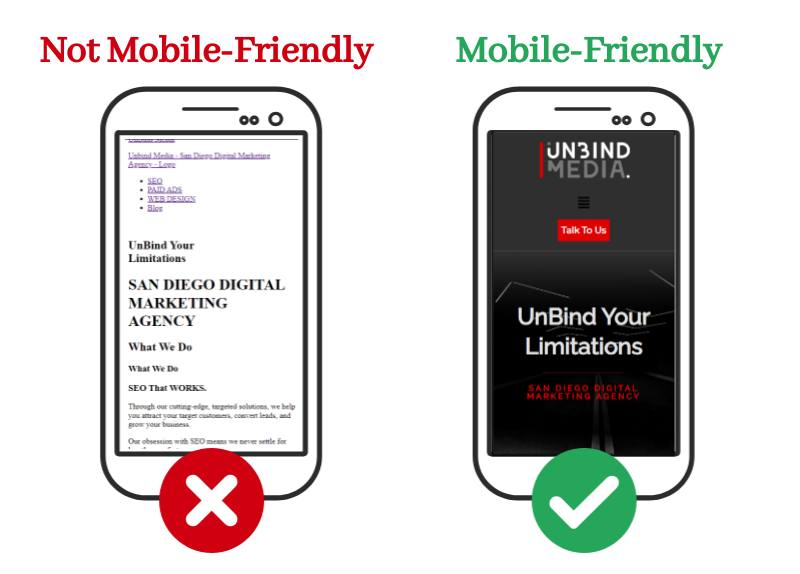 But why is a mobile-friendly website so essential?
The modern consumer is always on the move. They want to find your business online but don't want to spend more than a few seconds finding you.
If your website doesn't load quickly, or if it's hard to navigate, customers will just look for another roofing company that has a better-designed website.
The number of mobile internet users was at 4.32 billion, suggesting that more than 90% of the worldwide internet population accesses the internet via a mobile device.
that is to say, anyone who does not have a mobile-friendly website is currently slipping behind, and this will only worsen as Google shifts to mobile-first indexing.
Ultimately, you must take advantage of every accessible tool.
Making your website as mobile-friendly as possible not only provides a better client experience but also helps with search engine rankings.
4. Uncover Your Company's Most Crucial Keywords
When it comes to keyword research, it's important to remember that your website will only be as successful as the keywords you choose.
A reputable digital marketing agency will ensure that your roofer website is guided by a defined keyword strategy.
When a user performs a search on Google, they are looking for something specific. The keyword they use reveals their intent and the kind of information they are seeking.
These intents are categorized as navigational, informational, and transactional keywords.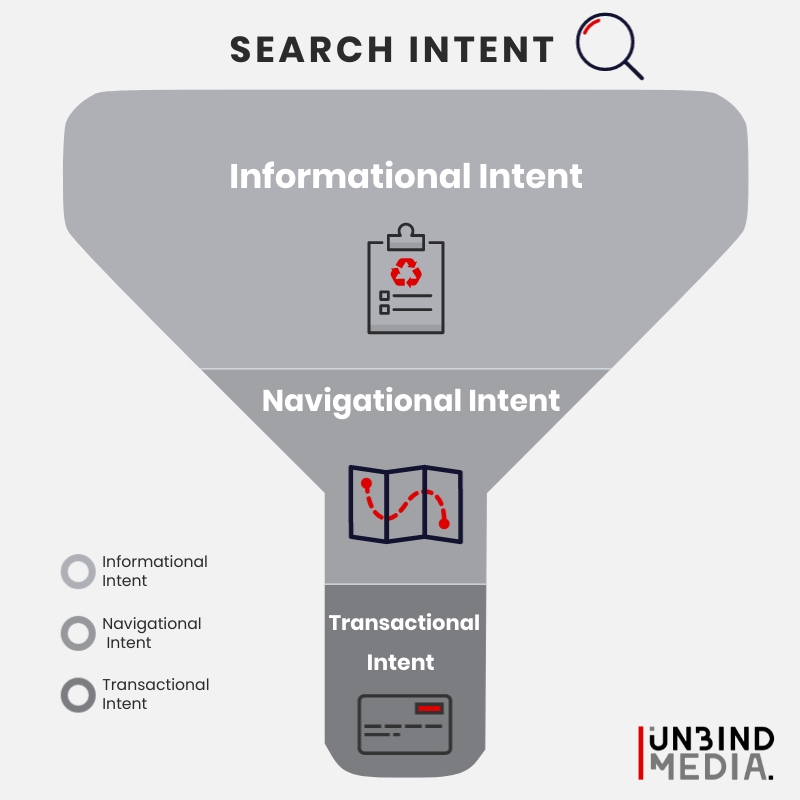 Informational Intent Keywords
When someone searches [how to repair a leaky roof], they are looking for an answer to a specific question.
In this situation, the individual may be searching for this phrase because they are looking into roofing solutions, making them a qualified person to contact your business.
Informational keywords are characterized by "question words," which often include information such as "what is," "how," and so on.
focusing on these phrases will help your website become an authority in the roofing industry, trusted by customers looking for assistance or answers to frequent issues.
Navigational Intent Keywords
People who search for terms that include a company's brand name or a description of a business have a navigational intent.
For roofing professionals, navigational keywords are essential to target.
This is because people who are searching for these words are already aware of your business, and they're simply looking for a way to contact you.
Transactional Intent Keywords
Some keywords will generate far more qualified leads than others. These are referred to as "transactional keywords.
Here are a few transactional keyword examples for roofers:
roof repair near me

roof leak repair

roofers in my area

roofing contractors
Transactional keywords are extremely lucrative, and gaining high rankings in search results will generate a large number of fresh, qualified leads.
5. Maximize Your Search Visibility With SEO
One of the most important marketing measures for any roofing company is to be easily found online.
It's no secret that consumers are increasingly turning to Google to find a roofing contractor. Simply look at the Google Trends data for "roofer near me"
Search engine optimization (SEO) can boost your chances of being the business that these visitors reach when looking for a roofing contractor.
Here's why:
Optimizing your website for search engines is essential if you want to stay ahead of the competition.
Also, by optimizing your website, you can increase your chances of ranking higher on search engine results pages and generate more leads.
SEO is made up of two major parts: on-page and off-page.
On-page SEO refers to any aspect of your website that you can modify in order to boost your rankings. This includes factors such as site speed, keyword usage, website content, and so on.
Off-page SEO is the action you take outside of your own website to help increase your rankings. Generally speaking, that only refers to link building and guest posting.
With that said, let's take a closer look at key aspects of SEO.
6. Create And Share Expert Roofing Content
A good SEO strategy is all about providing value to your audience.
To achieve this, you need to constantly keep your site updated with fresh and relevant content.
By sharing expert roofing content with your customers, you are not only educating them on how to solve their problems, but also empowering them to take control of their situation.
The more relevant and unique your content is, the better your chances of ranking in search engines and generating leads.
Content is king. Your site needs it, your audience wants it, and search engines love rewarding it.
Creating content is essential for any business – it helps you build trust and connect with your target audience, while also providing fuel for your other marketing tactics.
By creating valuable, consistent content, you'll be able to reach more people and ultimately drive more sales.
7. Build a Solid Foundation for Local SEO
If you want to be found by local homeowners, you need to improve your local SEO.
Local SEO is a strategy to increase your business's visibility, traffic, and conversions to potential clients in your geographic area.
Your Google Business profile is the most critical component of local SEO.
It appears in the search results in a visible panel on the right-hand side of the SERP.
This is the free business listing that connects your company to Google Maps and Google's local search results.
We put together a step-by-step guide for roofers on how to set up your Google business profile.
8. Grab More Attention Through Video Content
Written words are a great way of spreading your message to the masses, but not everyone will read them.
However, videos are an excellent approach to reach out to prospective customers who skim written content.
The number of people watching videos is at an all-time high. They watch videos for entertainment and to make purchasing decisions.
There are over two billion people who use video-sharing platforms like YouTube.
And with mobile devices, people can watch videos whenever they want and from wherever they are.
It is an effective model to provide customers with meaningful, actionable information while also gaining their confidence and loyalty.
According to HubSpot Research: more than 50% of consumers want to see videos from brands.
Videos don't have to be difficult to make. Consider some of your customers' most frequently asked questions and respond to them in a basic interview format.
Here are some video ideas:
Review of the Best and Worst Gutter Guards

Best Roofing Vent On The Market

Most–Common Causes of Roof Leaks
You can also post videos on your website. This encourages consumers to spend more time on your website, which improves your SEO score.
9. Enhance Your Email Marketing Efforts
Your email marketing strategy might not be the only kind of outbound marketing you do – but it is among the most effective.
Email marketing is a powerful way to connect with your target audience and promote your roofing business.
That is to say, by reaching out to existing clients and potential customers, you can increase your brand awareness and generate more leads.
The global e-mail marketing industry was worth $7.5 billion in 2020, and it is expected to grow to $17.9 billion by 2027.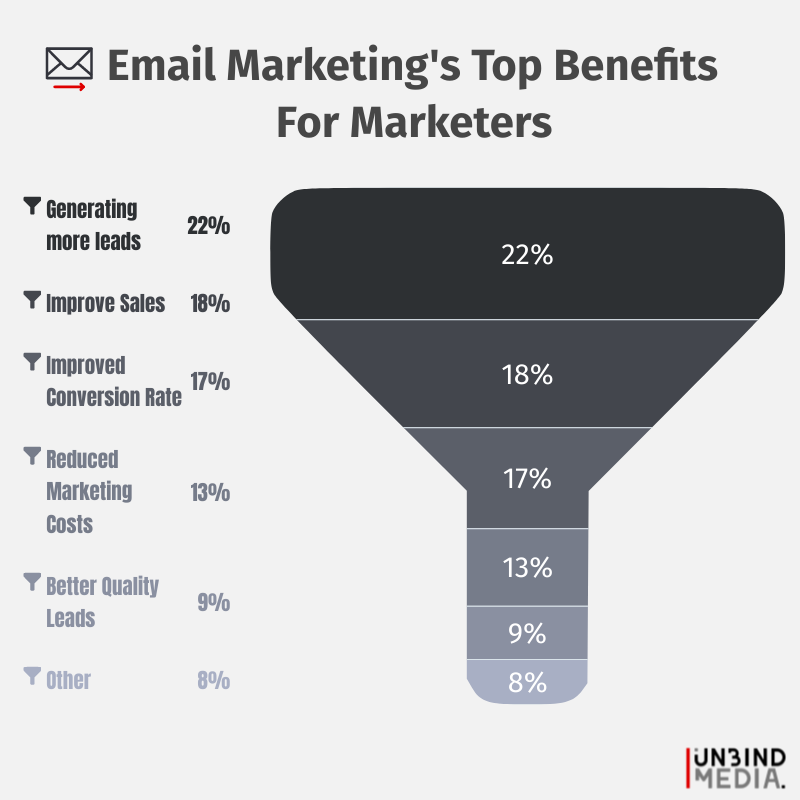 Email marketing for roofers is also an efficient way to keep your company in the minds of people who may want your services in the future.
Measuring the success of your email marketing campaigns is easy; – most marketing platforms offer analytics that tells you how many people open your email.
This way, you'll know how well your efforts are received and be able to adjust your strategy accordingly.
If you're new to email marketing, there are a few handy tools that can make the process much more efficient.
Services like MailChimp and Constant Contact let you send marketing campaigns and manage your contact lists easily. so you can focus on creating content that engages your subscribers.
10. Use Social Media to Your Advantage
Social media is often viewed as a fun platform for people to connect and share. However, it can also be a powerful business tool when used correctly.
In fact, social media can reach a large number of potential customers that businesses would not otherwise have access to.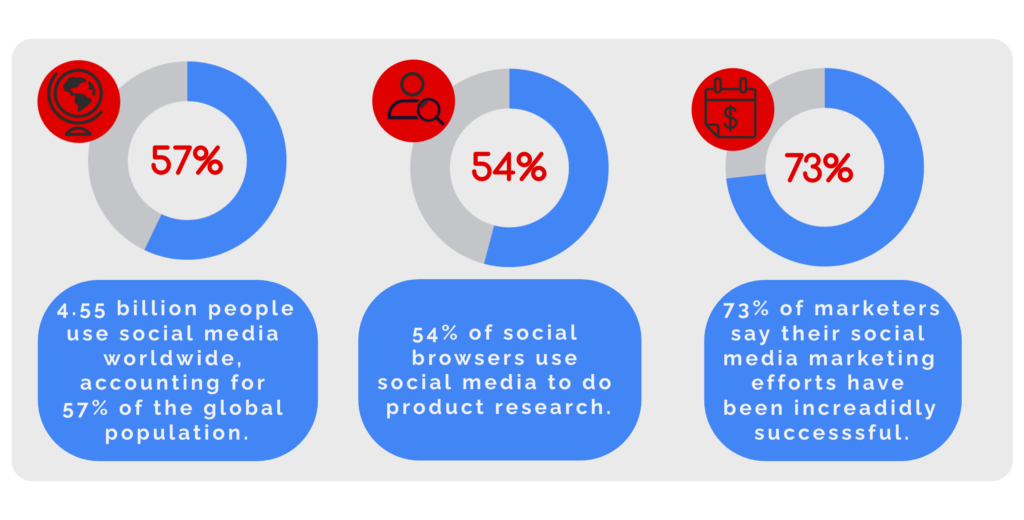 Facebook and other social networks have extensive customer analytics and data insights that allow you to identify potential customers who fit your ideal customer profile and then advertise directly to them.
You do not have to set up accounts on every social networking platform.
Consider which platforms your target audience uses the most to avoid wasting time and energy on platforms that will not get you anywhere.
To have a successful social media presence, you need to be actively engaged on your chosen platforms.
This means posting regularly, which can be a challenge for some people. However, you can leverage social media scheduling tools to help post efficiently.
11. Invest in Local Services Ads for Roofers
A well-optimized website is a critical part of any company's online marketing strategy, but it's not the only way to get traffic from Google.
In fact, buying Google Local Services ads can increase the chances of your company appearing at the top of search results, above paid ads, and organic listings.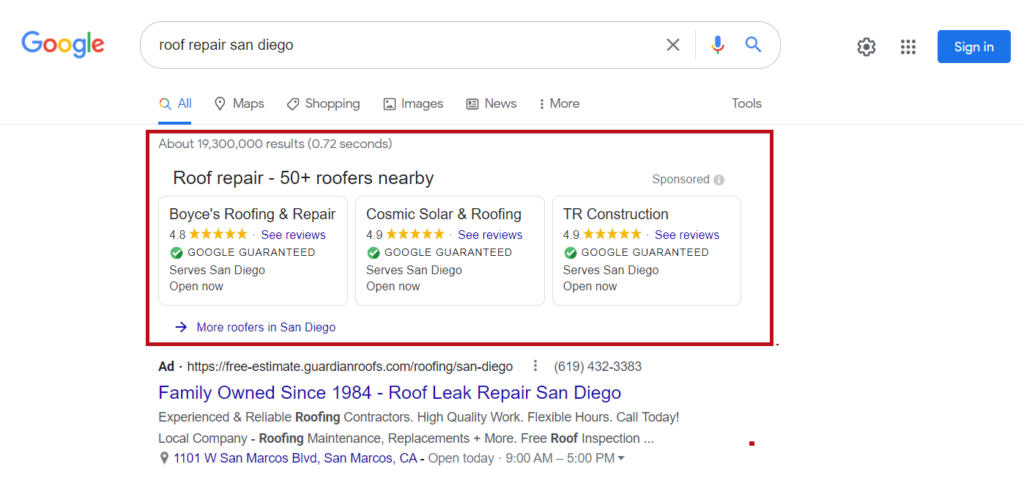 That way homeowners can easily find your business through Google local services.
By browsing your website, they can see your company name, Google review rating, and years in business. This will help them determine if you are the right fit for their needs.
The cost of Google Local Services ads varies depending on the market and targeted keywords, but you only pay when a customer contacts your business through your roofing ads.
This cuts down on useless job leads from customers who are simply browsing prices online.
12. Analyze Your Marketing Results
A successful marketing strategy requires constant tracking and tweaking to ensure you're always getting the most out of your efforts.
The beauty of digital marketing is that you can track practically every aspect of your campaign.
This gives you a detailed understanding of what's working and what isn't, so you can make more informed decisions about where to allocate your resources.
Search Engine Optimization is a long-term strategy; you can't achieve results overnight.
To achieve the best outcomes, you'll need to have a long-term vision and commitment to your plan.
Here are the main tracking tools to measure your marketing success:
Google Analytics
Google Analytics is a free website monitoring tool for web owners that tracks how visitors interact with your website.

GA allows you to track your goals and evaluate various key aspects of your website's success.
Google Search Console
Google Search Console is a tool that enables anyone to see their site's performance as seen by Google.

GSC allows you to see your overall site performance, as well as mobile usability, backlinks, core web vitals, and most visited pages.
Boost Your Marketing With Unbind Media
The internet has leveled the playing field for businesses of all sizes when it comes to marketing.
No matter how big or small your roofing company is, you can make a huge impact with the right online strategy.
If you're looking for help getting more leads and increasing your visibility online, we can help.
At Unbind Media, we offer a wide range of marketing services that are tailored to help you reach your business goals.
Take a look at our website to see all that we have to offer, or contact us today for a free consultation. We would be happy to help!