As a business owner, you know how important it is to get your name out there and attract new customers.
And with the rise of digital marketing, there are more opportunities than ever to reach potential customers through online ads.
One type of online ad that can be particularly effective for businesses in the home services industry is Local Services Ads (LSAs).
LSAs are a type of Google ad that allows businesses to promote their services to customers in their local area.
This guide will cover everything you need to know about Local Services Ads for HVAC contractors, including how they work, how to set up your ad, and how to make the most of this powerful marketing tool.
What Are Local Services Ads for HVAC?
Local Services Ads (LSAs) are a type of Google ad that allows businesses to promote their services to customers in their local area.
LSAs appear at the top of Google's search results page and allow businesses to showcase their name, years in business, and customer reviews right on the ad.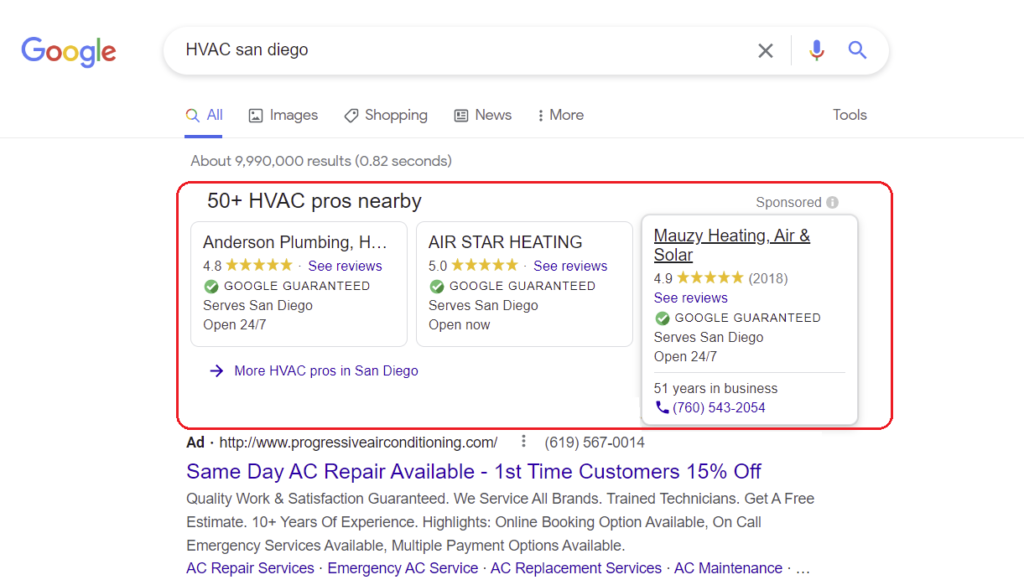 This helps potential customers feel more confident about hiring a business that Google has vetted.
To be eligible to run an LSA, your HVAC business must be verified and approved by Google. Once you're approved, you can create your ad and start reaching new customers in your area.
Here's a Quick Overview of How LSAs Work:
Potential customers search for a service on Google.


Google displays a list of local businesses that offer the service, along with customer reviews, licensing and insurance information, and more.


Customers contact the businesses they're interested in to get more information or schedule a service.
LSAs are an effective way to reach new customers because they allow you to showcase your business in a favorable light.
Customers can see that you're a reputable business with satisfied customers, which makes them more likely to contact you.
If you're ready to get started with LSAs, keep reading to learn how to set up your ad and make the most of this powerful marketing tool.
The Benefits of Local Services Ads for HVAC Companies: Are They Worth It?
Local Services Ads can be a great way to elevate your local SEO strategy and grow your business. Here are some of the benefits of running an LSA:
1. Earn Customers' Trust as a Google Guaranteed Service
You can showcase your business in a positive and trusted manner. Customers can see that you're a reputable business with satisfied customers, which makes them more likely to contact you.
2. Local Area Targeting
LSAs allow you to target customers in your local area. This is an effective strategy to reach out to potential customers who are unfamiliar with your HVAC business.
3. Fast Results
You can get your ad in front of potential customers at the moment they're searching for a service you offer. This makes it more likely that they'll contact you to schedule a service.
4. Only Pay for Genuine Leads
LSAs can be a cost-effective way to reach new customers. You only pay when a customer contacts you, so you're only paying for leads that are interested in your services.
The Difference Between Local Service Ads, Local Search Ads, and Google Ads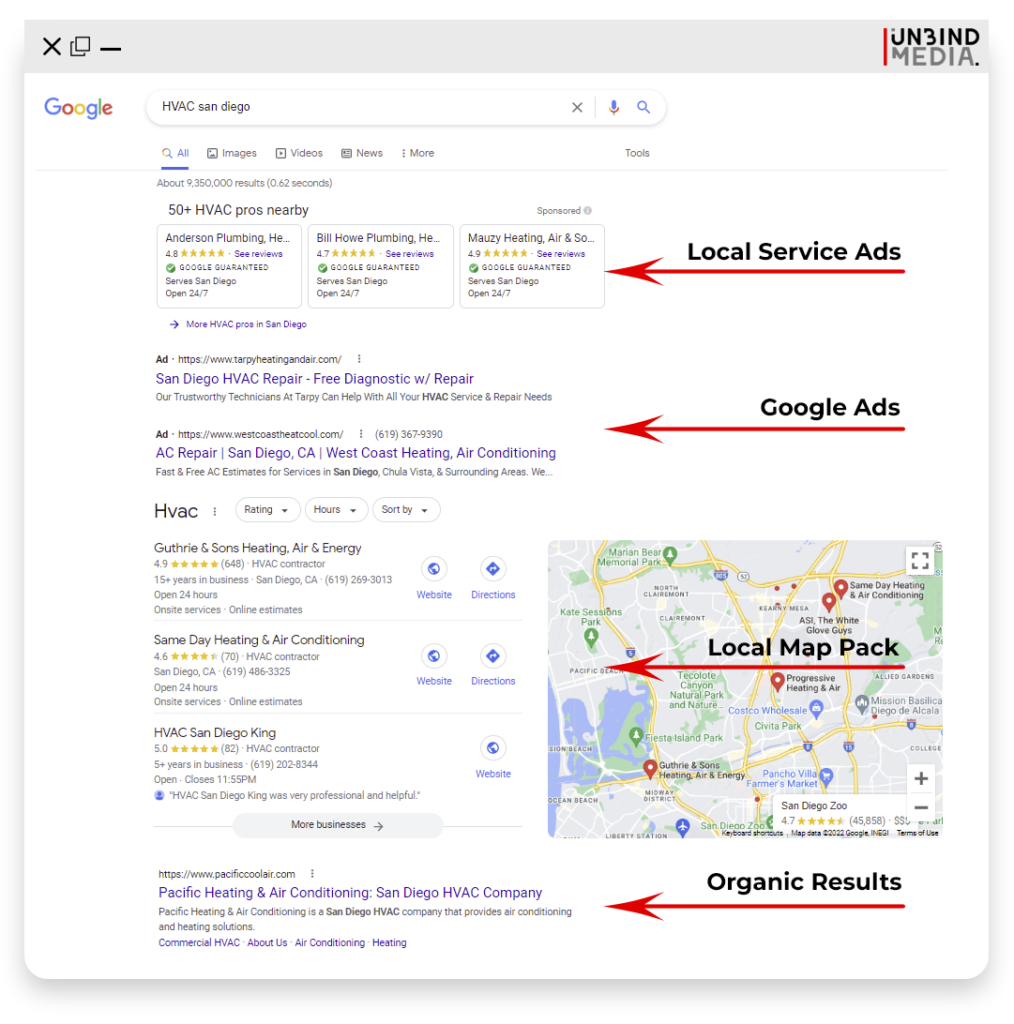 LSAs Appear First
Local Services Ads now show up first when someone searches for anything that would trigger them on Google. This means they appear above all other sorts of results, such as Google Ads, local map pack results, and standard organic results.
Budget Doesn't Influence Ranking
HVAC businesses with large advertising capabilities can use Google Ads to crush smaller businesses. Big corporations can drive smaller companies out of the top of the search results of Google ads.
The same cannot be said for Local Services Ads. LSAs have a flat-fee pay-per-lead structure, so you can't enhance your ranking by putting more money into them. The location and reputation of your HVAC business are the most important factors in placement.
LSAs Operate on a Pay-per-lead Basis
Local Services Ads, unlike Google Ads, will only charge you for leads they deliver (either by contacting you or sending a message to your company), rather than every time a person clicks on the ad.
This allows you to save your advertising spend for prospects that are farther along in the buyer journey and thus more eligible to become a customer.
LSAs Require a Screening Process
To be eligible for Local Services Ads, your company must go through a screening process. The same cannot be said for Google Ads. This screening procedure involves license and background checks.
Once the screening process is completed, you will have the option to appear in more locations on Google when people search for the HVAC services online, as well as the green Google Screened badge.
With LSAs, Proximity Is More Important Than Google Ads
If your HVAC business is nearby to the searcher, it will be considered more relevant and will appear higher in the LSA results.
This is fantastic for small HVAC businesses competing against large companies in larger cities. However, this demonstrates why Google Ads and organic SEO are still effective because they are not always limited by location.
How to Set Up Local Service Ads for Your HVAC Business
Step 2: Enter Your Eligibility Details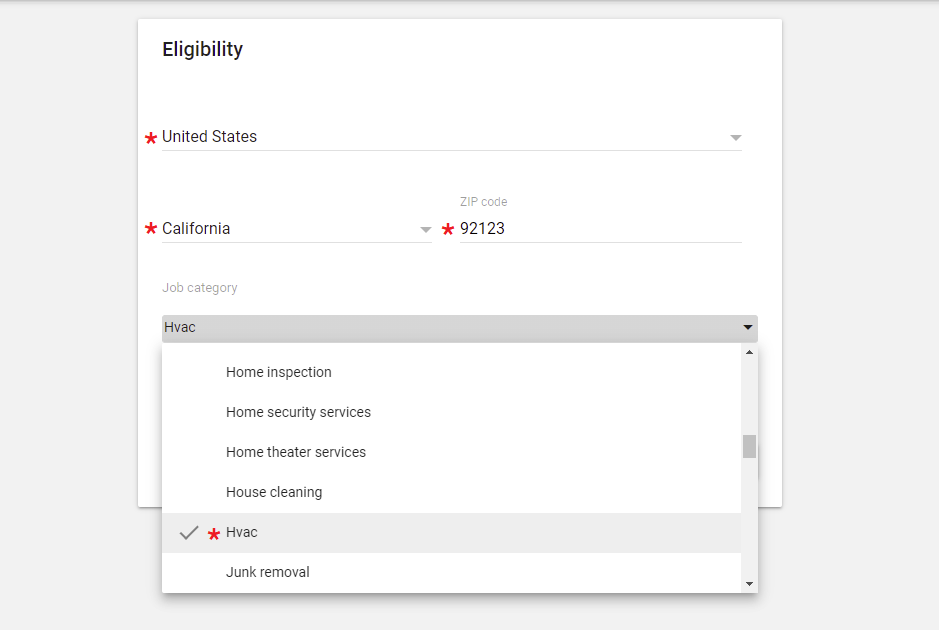 Select your country, state, and zip code, and then choose HVAC as your job category.
Step 3: Click the Get Started Button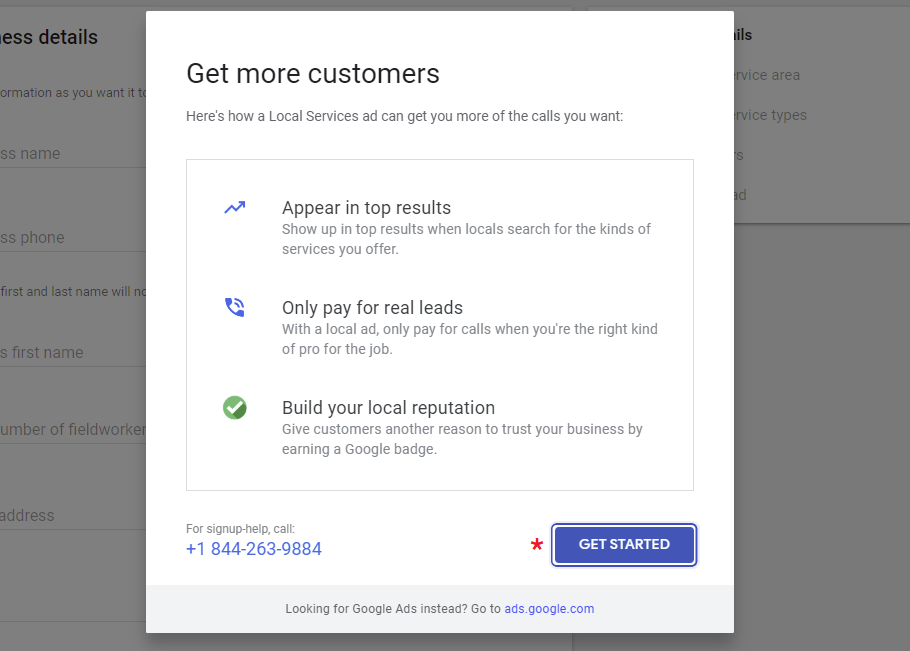 If your location is eligible for Local Services Ads, a screen will appear informing you of the benefits. To proceed with the setup, click the Get Started button.
Step 5: Enter Your Business Information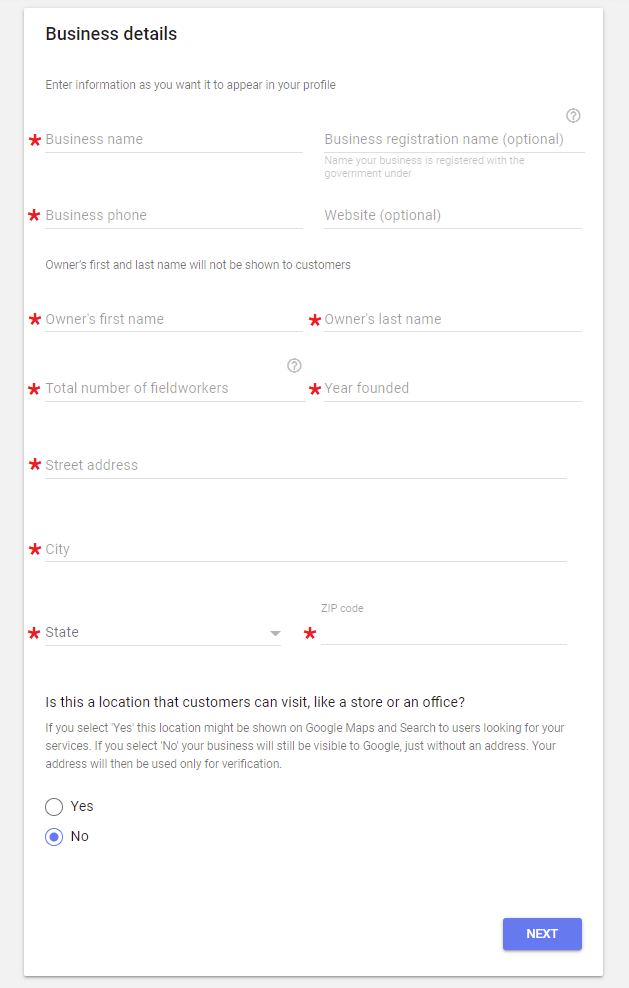 Fill in the needed information for your HVAC business, which will include:
Business name

Business registration name (optional)

Business phone number

Website (optional)

Owner's first name

Owner's last name

Total number of fieldworkers

Year the company was founded

Your street address, city, state, and zip code

Whether or not your business address is a location that customers can visit
Step 6: Setup Your Service Area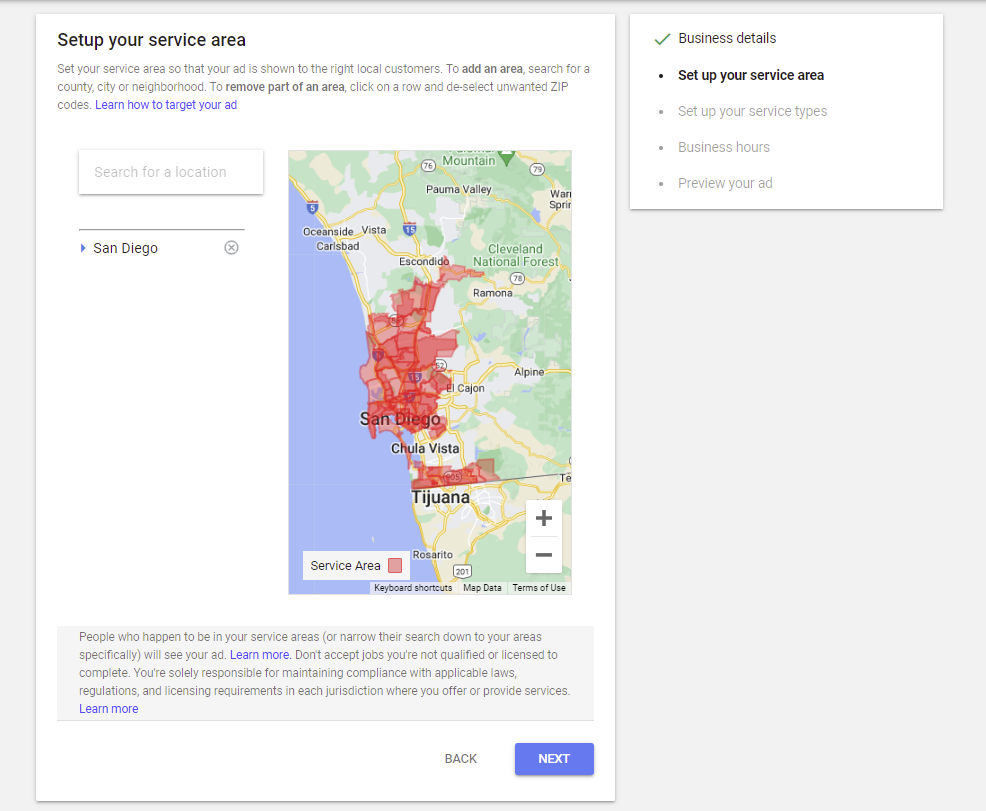 On the following screen, you'll specify the service region in which you want your Local Services Ads to appear.
It will list the area you choose for your company location by default. You can add more regions by searching for a location, clicking the arrow beneath the city/town, and ticking the boxes next to the zip codes.
After you've specified your service area, press the Next button.
Step 7: Set Up Your Service Types
Next, choose all of the categories that reflect your services. (e.g. HVAC maintenance, clean ducts & vents, etc.) If you wish to speed up the process, click the "Select all" option.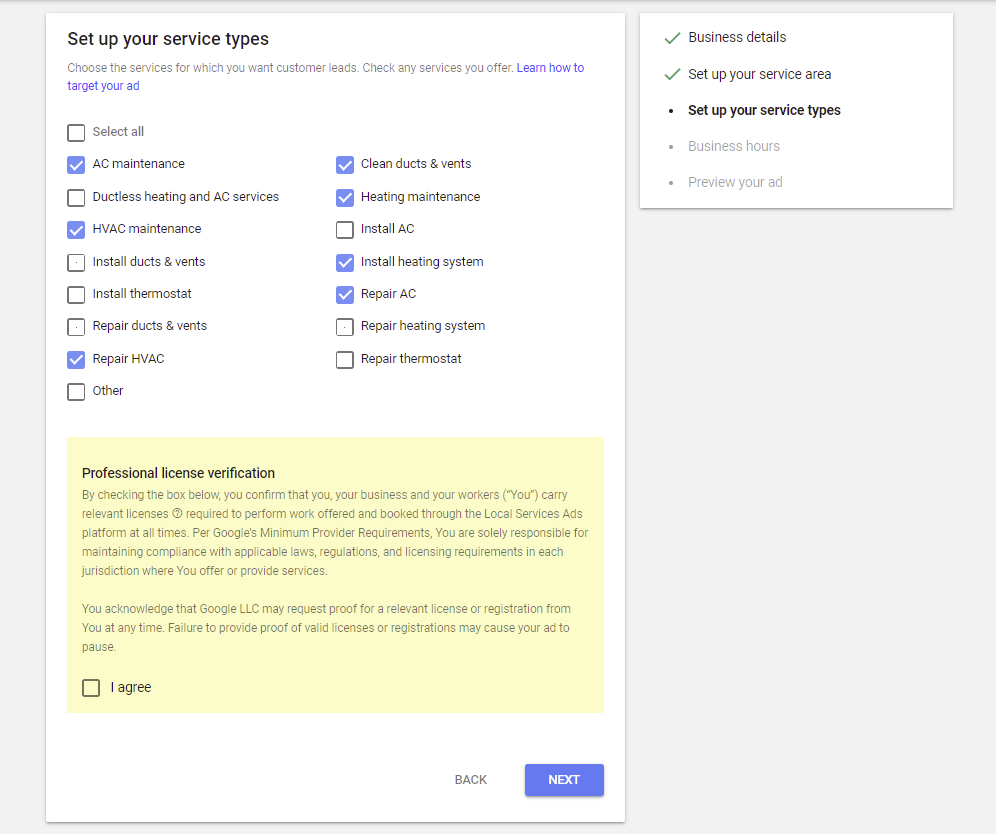 After you've chosen your service categories, tick the box next to "I agree," which confirms that you, your company, and its employees have the necessary licenses to do services provided and booked through Local Services Ads.
Step 8: Set Your Business Hours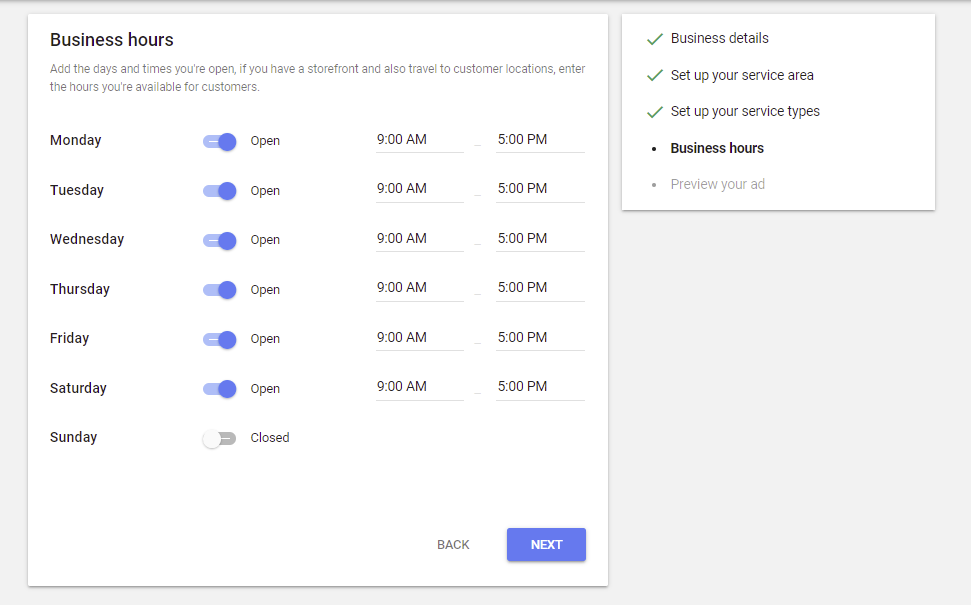 Add the days and times you're open for business.
Step 9: Preview Your Ad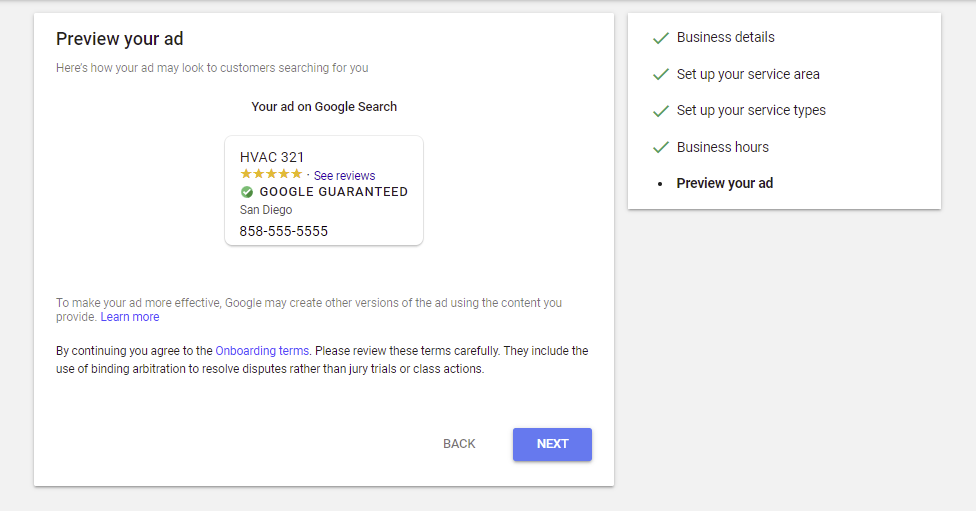 You will be able to see a preview of your advertisement.
Step 10: Preview Your Ad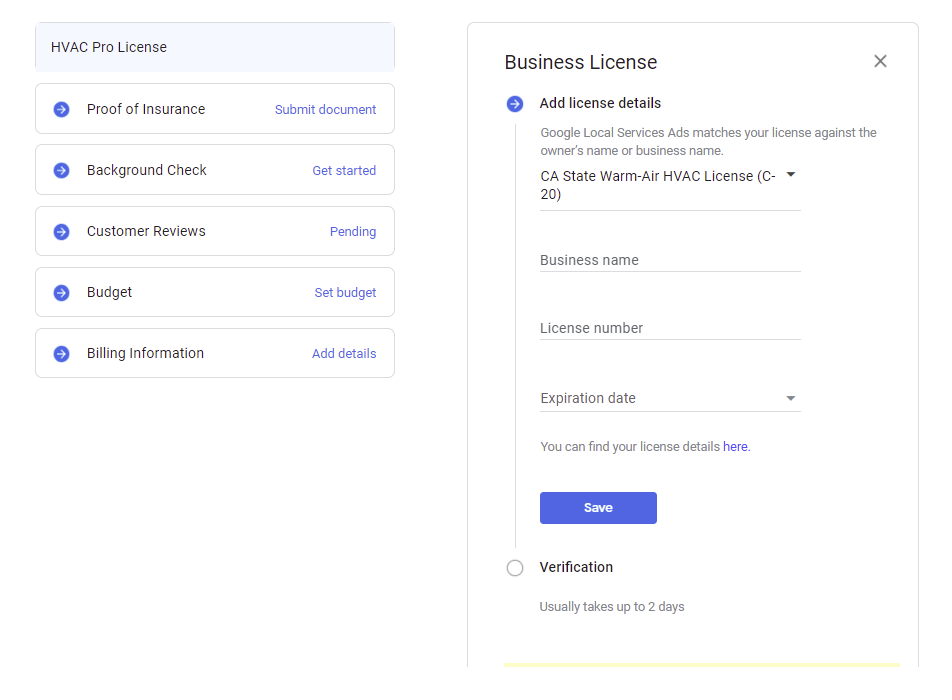 Include the following information about your company license:
Your first name

Your last name

License number

Expiration date
When completed, click "Save" to begin the verification process.
Step 11: Add Your Business Details for a Background Check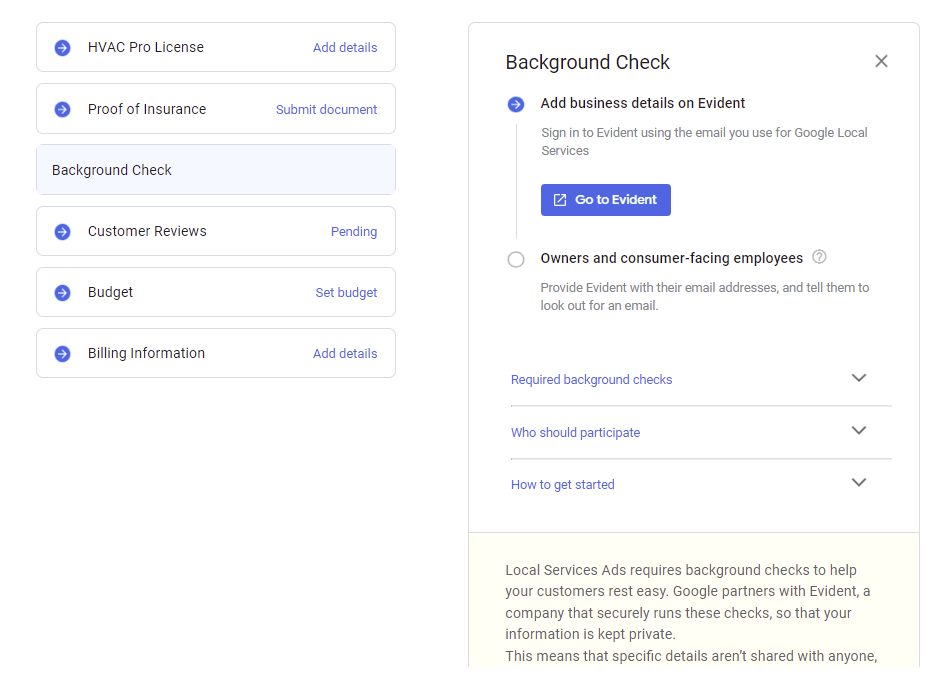 Step 12: Get Customer Reviews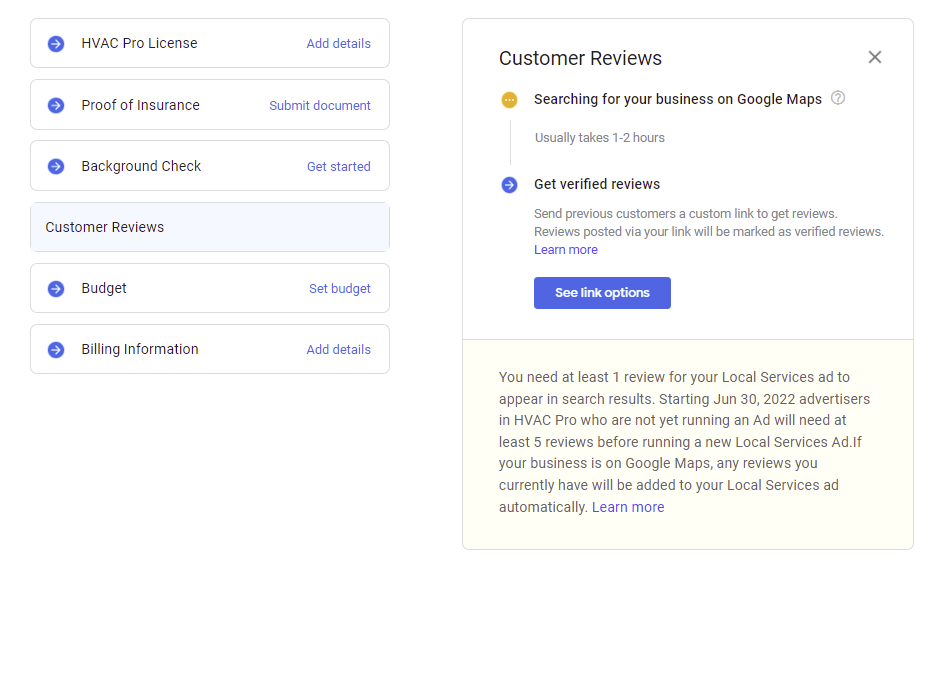 Local Services Ads immediately draw in reviews from your Google Business Profile account. However, going live with LSAs will need at least five reviews.
If your business does not currently have reviews on its GBP profile, you can share the link with current customers by clicking the "Select review link" button and picking one of the radio button selections.
Step 13: Set Your Weekly Budget
You can specify how much money you wish to spend on leads per week. Google will provide suggestions, but you can also choose "Set your own budge" and input $0 to see what is the least amount needed.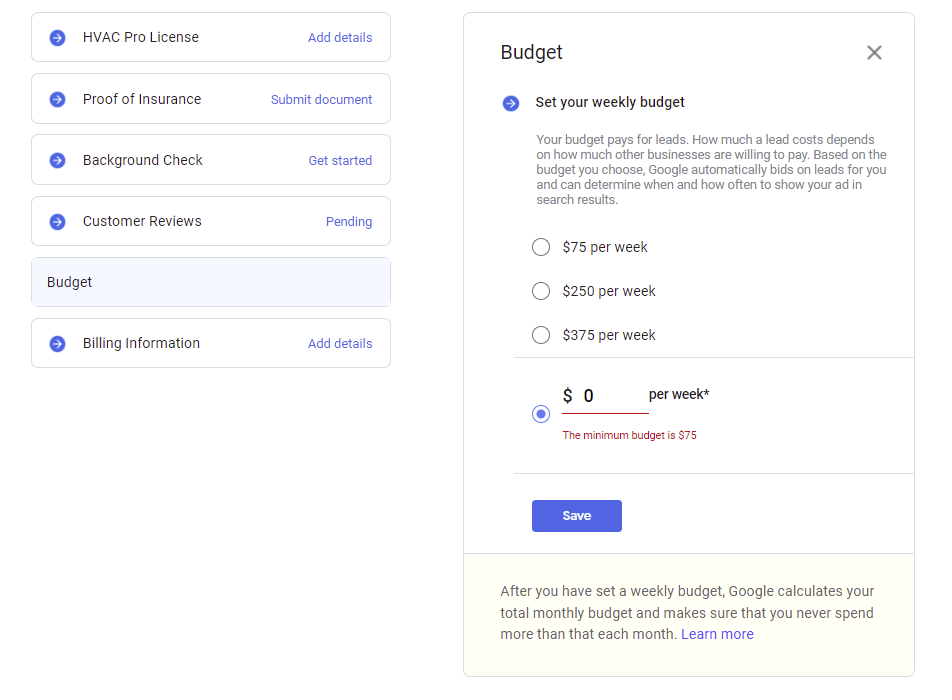 When establishing LSAs in a new market, we like to start with the minimum amount. It allows us to assess the quality of the leads, which might differ from city to city.
Step 14: Add Your Billing Details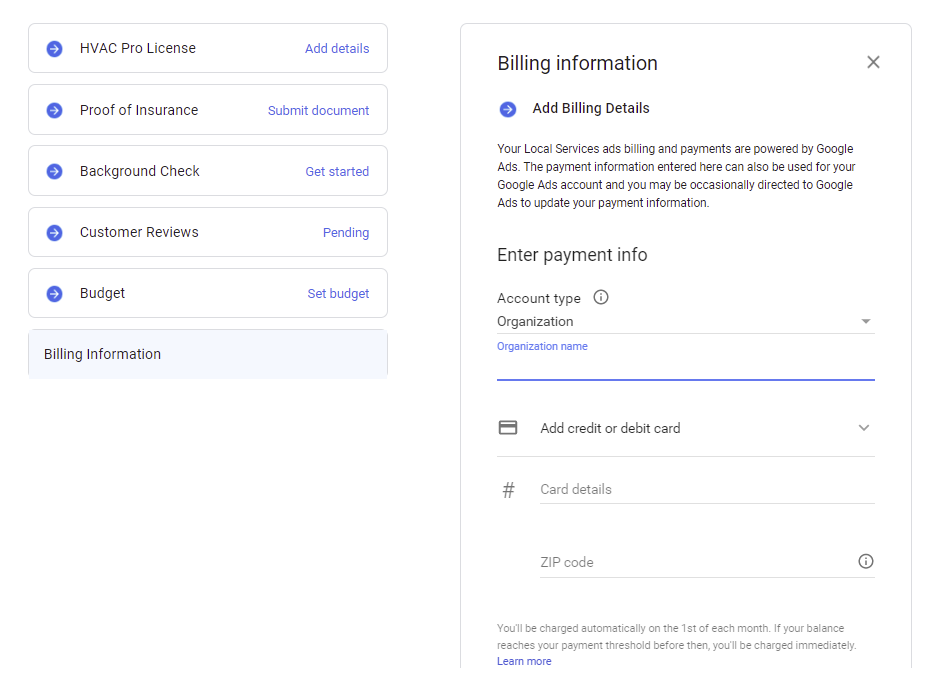 Now enter your billing details. Please keep in mind that Google will automatically charge you on the first of each month unless your balance surpasses your payment limit, in which case you will be charged instantly.
Are You Ready to Start Running Local Service Ads?
Local services ads, as part of an overall HVAC marketing strategy, may now be the quickest and most efficient approach for your HVAC company to expand with quality phone leads.
LSAs, unlike HVAC SEO and Google Ads, work on a pay-per-lead basis, allowing you to generate quality leads straight from Google's search results.
Local service ads don't have to replace Pay-per-click campaigns. Instead, LSAs can supplement Google PPC advertisements, improving your chances of appearing first on the search results page.
Now that you've discovered the winning formula, it's time to put it into action.
Unbind Media provides a variety of digital marketing services. We create data-driven solutions to assist you in meeting your marketing objectives and outperforming your competition.
Talk to our marketing experts, and we will help you get started.