Are you ready to strategically market your HVAC business in 2022?
If so, this post is for you.
Like most HVAC contractors, you mainly focus on fulfilling heating & air conditioning services and might not have time to research the latest marketing strategies.
However, in this day and age of digitization, all HVAC companies must understand the significance of digital marketing.
Homeowners and businesses frequently require the assistance of a qualified HVAC contractor. And when they do, most of them search online to find one.
That's why your business must be visible online in order to reach new customers that are actively looking for your services.
In this article, we outline 5 of the most effective HVAC marketing strategies that you can adopt to grow your business and attract new customers in 2022.
---
Part 1.
Build Your Brand With an HVAC Website
We believe that your website must be your primary marketing tool, through which all other marketing activities should flow in harmony.
Why Is Web Design Important?
Most HVAC companies still have out-of-date websites, which has a negative impact on their overall online presence, and the conversion rate of visitors that visit their site.
A good website design includes elements like consistency, colors, fonts, images, simplicity, and usability.
There are four major points to cover here:
Custom Design
When someone visits your website, it just takes them a few seconds to determine if they want to stay and give you a chance or go elsewhere.
That first impression is crucial; it can have an impact on your company's sales, marketing, and other initiatives.
Apart from an appealing design, customers want a responsive website with clean visuals, easy navigation, and informative menus.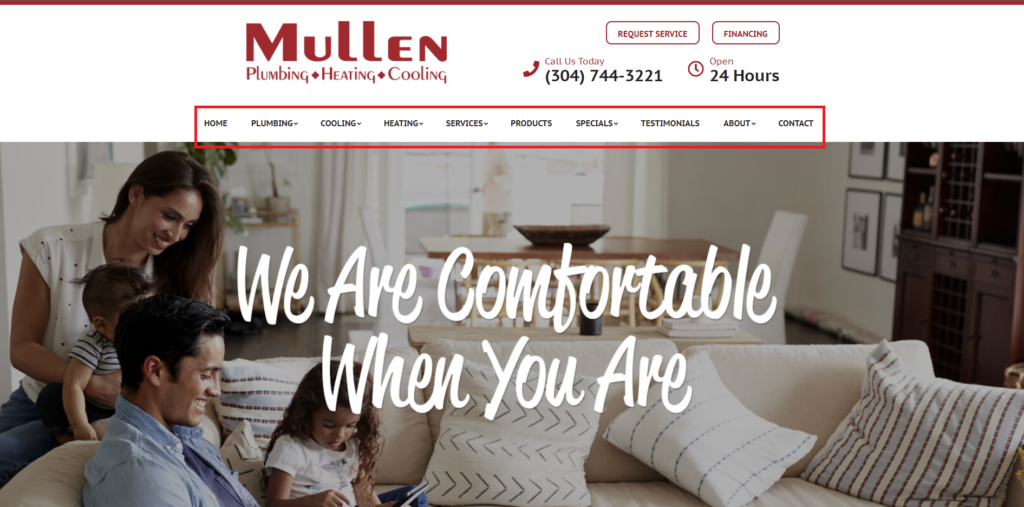 While a well-designed website might attract visitors, if the content is not useful and well organized, they won't bother to take a closer look.
Keep in mind that providing exceptional content is ultimately what your readers are looking for.
We will discuss content in more detail next in part 2.
---
Call To Action
A call to action (CTA) is an element on a website designed to encourage visitors to take action. It is the secret sauce for enticing visitors to share their information.
CTAs primarily direct visitors to perform a certain action, such as calling or messaging your business.
Typically, a call to action is displayed as a button or a combination of a button and a line of text.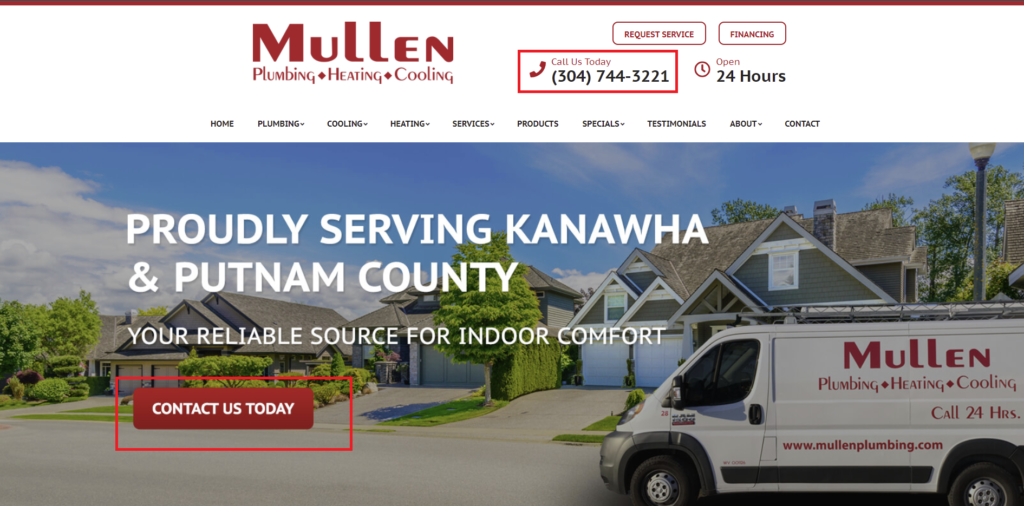 Keep in mind that slight wording adjustments may have a major impact on how effectively a call to action performs.
In essence, color, size, and location on the page may all influence whether or not a visitor chooses to act on your proposal.
---
Contact Information
The acronym "NAP" stands for "Name, Address, and Phone Number."
Your business's NAP information is one of the key components to achieving high visibility in local search engines online.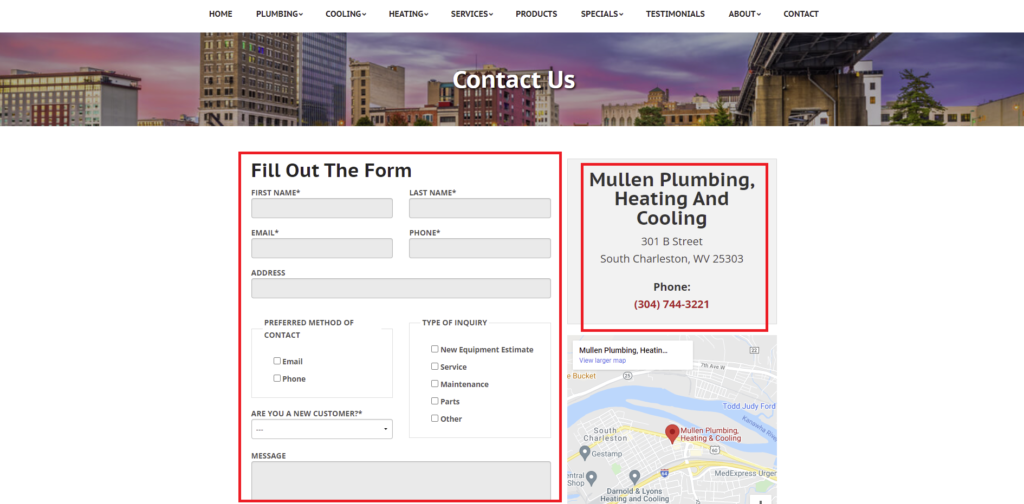 Search engines such as Google use NAP information to decide which listings to show in a location-based search.
We frequently see inconsistencies in NAP information when an HVAC company relocates or uses a number that does not match the phone number on their website.
For that reason, make sure all your business information online is correct and consistent.
---
Testimonials
Acquiring high-quality customer reviews is an essential part of a successful HVAC marketing strategy.
Not to mention, almost every site visitor today expects to find positive feedback about a business online.
Social proof in the form of five-star reviews can help you increase your local search success as well as your conversion rate when clients find you.
After all, customers naturally trust one another more than they trust marketing information; hence, a testimonial provides significant weight to the decision they're attempting to make.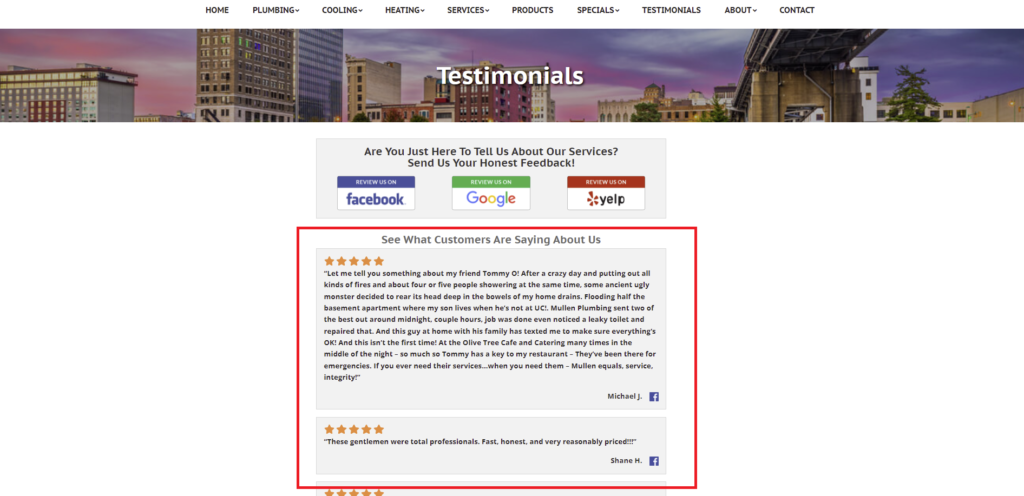 Here are some quick tips for getting more reviews:
When asking for a review, make the process quick and easy.

Identify the best time to ask for a review at each stage of the buyer's journey.

Provide exceptional customer service.

Respond to all reviews, even negative ones, to engage with your customers.
---
Part 2.
Boost Your Visibility With HVAC SEO
Keyword Research Is A Must
The foundation of an effective SEO strategy is keyword research.
Search engines like Google use keywords to determine when and where your site will appear when people conduct searches.
For example, when potential clients are looking for HVAC services, they will use keywords such as "ac repair," "heater repair," or even "HVAC repair."
Choosing the right keywords will help your HVAC business appear in the right search results.
However, the location of your keywords is just as crucial as the number of times you should repeat them throughout your website content.
To be more specific, you want to make sure that your keyword appears at least once in your page's title tag, URL, and in the first 100 words.
---
Improve Your Ranking With On-Site SEO
On-page SEO (also known as on-site SEO) is the process of optimizing web pages in order to improve search engine rankings.
Google looks at the content of your website, scanning for keywords to see whether it's a good match for the user's query.
Onsite optimization helps you in improving your website's architecture, content, and code to make it more search engine friendly.
Here is an example of on-page SEO best practices:
Use your target keywords in your title tags and meta descriptions.

Keep your URLs brief yet informative.

Add your keywords to the URL, H1 tag and reference it in the body.

Fill in the alt text for all of your images.

Include secondary keywords in H2's

Add schema markup for questions and reviews.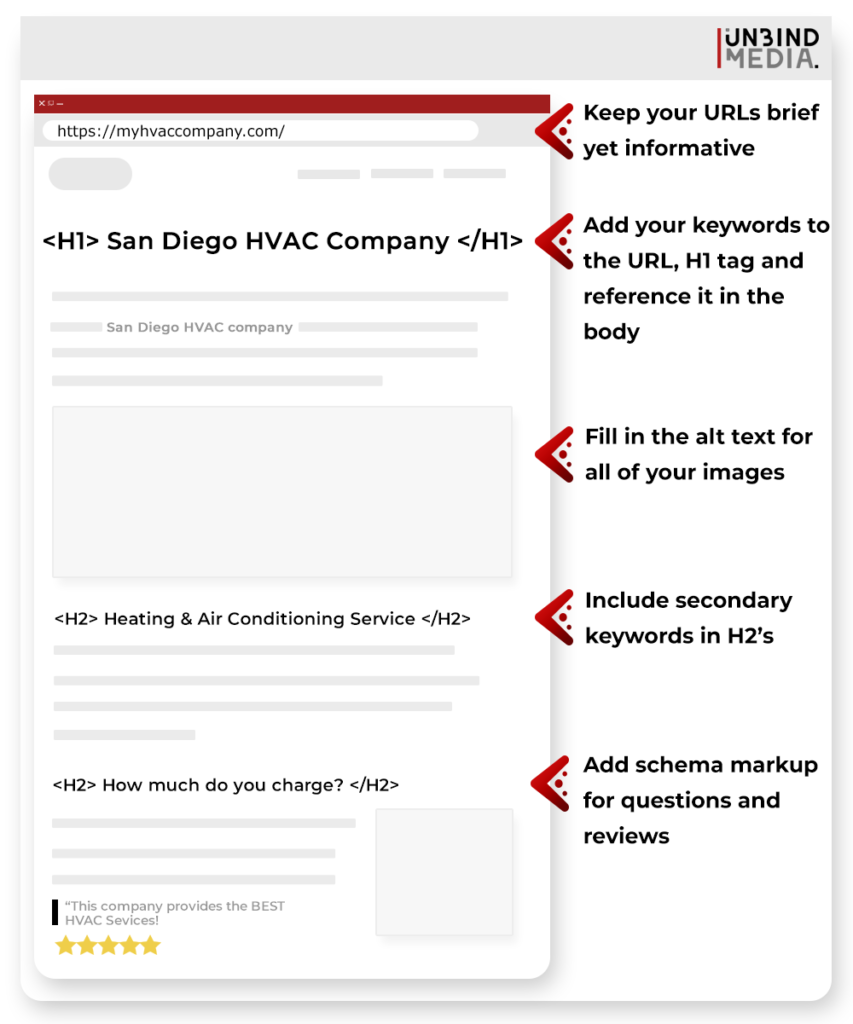 ---
Backlinks
Backlinks, also known as inbound or external links, are links on one website that point to another.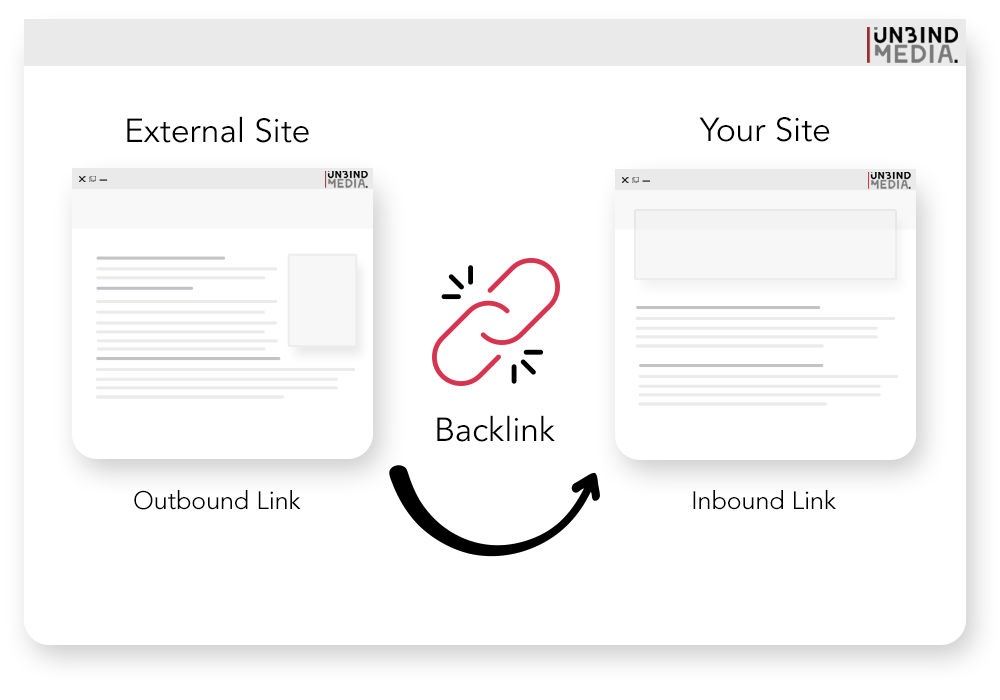 The quality of the websites that link to you is also vital. A link from a trustworthy site is much more beneficial than a link from a spammy one.
Link-building is critical for improving your website's rankings. It's a major ranking signal since Google considers high-quality inbound links to be "votes of confidence."
There are several methods for generating inbound links to your website, some of which are beneficial, while others are detrimental.
Techniques such as buying links or using PBNs are against Google's webmaster guidelines.
Blogger outreach is a better way to generate relevant backlinks through guest posting on another domain.
Link building is crucial to success, and writing quality content that ranks is the best way to earn organic links.
Here are some strategies for acquiring links:
Guest posting: To gain useful backlinks, submit guest posts to prominent websites in your industry.
Infographics: The great thing about infographics is that they are informational and easily shared. You should receive a backlink every time a website uses your graphics.
Blogging: Creating quality content will automatically draw attention and build backlinks on other websites.
---
Page Speed
There is nothing more annoying to the user than a slow website.
In the age of short attention spans, your site's loading speed is more important than ever.
Whenever someone visits your website, they form a very quick first impression and, if they find it slow, they won't hesitate to hit the back button.
Almost 70% of shoppers say page speed influences their desire to buy from an online retailer.
That is to say, page speed optimization is a must.
As Google continues to reward mobile-friendly sites with a great page experience, your SEO efforts should be centered on increasing page speed.
Fortunately, Google has released a variety of SEO tools to help you increase your site's performance, including:
---
Mobile Friendly
Optimizing your site for mobile devices means making sure your website looks great and functions properly on mobile devices.
Over the past few years, mobile device use has skyrocketed, with 76% of consumers shopping on mobile devices, a number that is only expected to increase as more smart devices become readily available.
Since Google launched mobile-first indexing, they've made it clear they'll prioritize mobile-friendly pages on search results.
Overall, if your pages are not designed with a mobile-first approach, you will damage both user experience and SEO.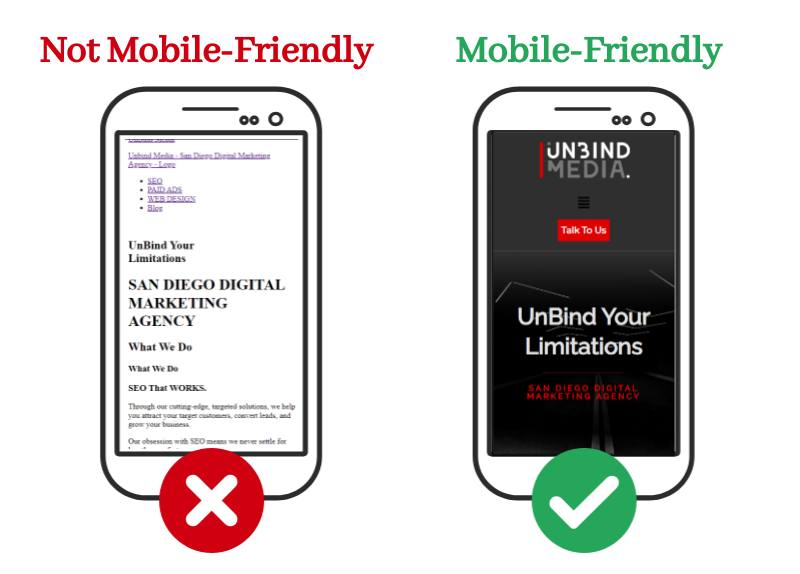 Fortunately, finding out how you're doing is simple. The Google Mobile-Friendly Test helps you determine how well your website is optimized for mobile viewing.
Page speed best practices:
You should ensure that all pages appear appropriately on all screen sizes.

The call-to-action buttons should be clear and accessible.

Forms should be simple to fill out on a smartphone.
---
Create Engaging Content
You'll need to publish engaging and compelling content. Why?
Because high-quality content development powers all other SEO tactics, such as keyword research and link building, and serves as a foundation for growing traffic to your website.
As much as 46% of businesses plan to boost their content development budget in 2022.
Producing content allows you to optimize your site for various keywords.
For example, you can launch a blog that answers frequently asked customer questions, such as:
"Which HVAC system is right for my home?"
"What kind of filter do I need for my HVAC system?."
Adding these pages to your site can help you generate targeted traffic from potential customers searching for HVAC services.
Most importantly, every high-quality piece of content you produce is another opportunity to reach the desired top spot on Google.
---
A company website is not the sole digital representation of your HVAC business.
You can leverage free social networks like Facebook, Instagram, Twitter, LinkedIn, and YouTube to increase your brand exposure.
Not only has social media transformed the way we do business, but it has also opened previously closed doors.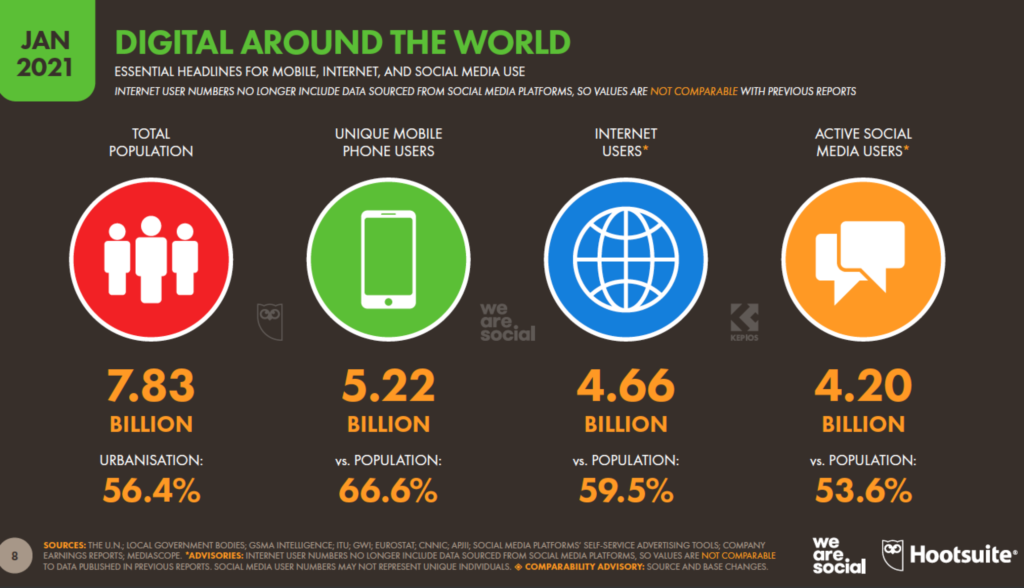 Social media networks, with over 4.2 billion active users globally, open the doors to a vast audience for your business to engage with customers, boost brand awareness, and generate more leads.
90% of the world's internet population accesses social media at least once a month.
Furthermore, social media allows you to learn more about your customers.
Through comments and other feedback, you will gain a deeper understanding of how customers view your services and can strategize accordingly.
Here are a few tips to help you gain traction on social media:
Identify your target audience.

Create a unique vibe for your brand on social media.

Do not rely on every current platform.

Be sure to claim your handles and usernames before they disappear.

Use software tools to post quality content consistently.

Launch an advertising campaign to expand your reach.

Respond to all inquiries and criticisms politely.

Measure your success and make any necessary adjustments to your strategy.
---
Part 4.
Get More Leads with Pay Per Click Marketing
Pay-per-click (PPC) marketing is an effective method of generating leads for your HVAC business.
When it comes to paid media, Google Ads and Facebook Ads are the industry leaders.
Despite its simplicity, pay-per-click (PPC) is not the ideal long-term digital marketing strategy.
Over time, SEO generates more qualified leads for less money. PPC, on the other hand, helps supplement traffic as the SEO process develops.
We pride ourselves on providing modern methods with cutting-edge strategies that will help get more leads using Pay Per Click marketing.
UnBind Media was included in the top PPC agencies by DesignRush. Read more.
---
Google Ads
The internet is a vast platform with a huge potential client base that you may engage with.
Using Google Ads is one technique to improve your customer reach with your HVAC marketing.
Say you own an HVAC business in San Diego, California. Someone in the San Diego region then gets on their computer and searches for "HVAC in San Diego" or "HVAC repair near me" or anything similar.
Take a look at how these ads pop up at the top of the search results page for "HVAC repair near me"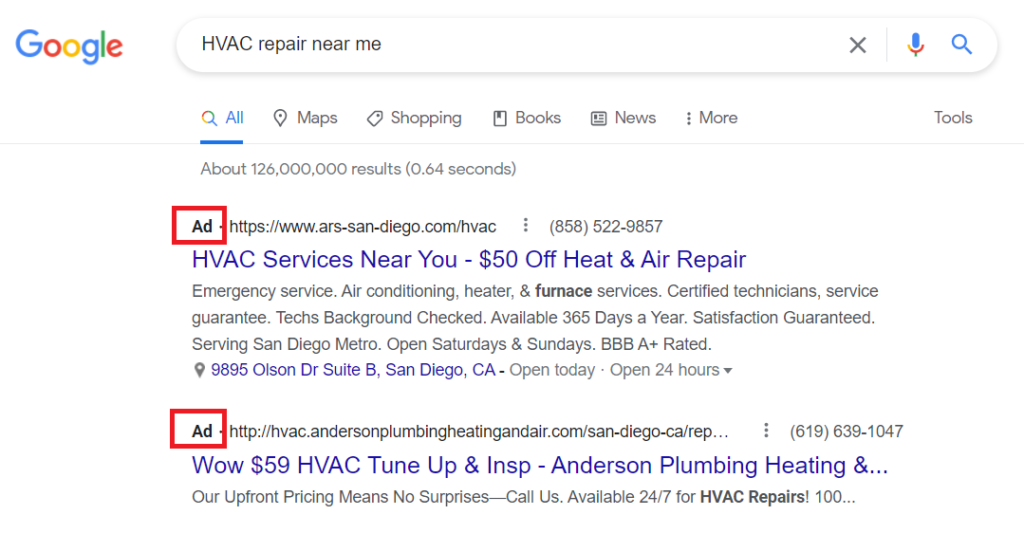 An advertisement for your business might appear at the top of the search results list, resulting in a large number of clicks.
Rather than spending months clawing your way to the top of Google search rankings, you can pay for an ad to appear at the top of the results page for relevant queries.
With Google Ads, each click costs you money. And it might cost a great deal of money if it falls into the wrong hands.
---
Facebook Ads
With over two billion active users in just over a decade, It's easy to understand why Facebook advertising has exploded.
For one thing, there is a massive ready-made audience to reach out to.
And for most HVAC companies, getting started with Facebook ads is a major undertaking, but those that do it well achieve amazing returns.
There is no other social media network that has more users than Facebook. That is why it is a jackpot for advertising to a wide range of industries, including the HVAC industry.
People use social networking sites to pass time, unwind, and socialize. They aren't necessarily hopping into Facebook to look for HVAC services.
That's why, in order to get the most out of your HVAC Facebook ads campaign, you must be aware of the most effective techniques.
Here's a quick rundown of what you should be doing to maximize the performance of your Facebook advertising campaign.
Set up a goal for your campaign.

Create a vibrant and engaging facebook business page.

Make sure you target a very specific audience based on market research in order to maximize ad relevance.

Make your ads more meaningful and relevant by including video.

You should always include a call to action to encourage users to register, schedule a consultation, or click to learn more.
---
Part 5.
Local SEO For HVAC Contractors
Local SEO refers to the process of optimizing your HVAC company's website for local search and establishing an online presence in one or more specific geographical areas. 
In simpler terms: Local SEO is Google's process of prioritizing local businesses in search results.
Google measures rankings in local search by taking three things into account: Relevance, Authority, and Proximity.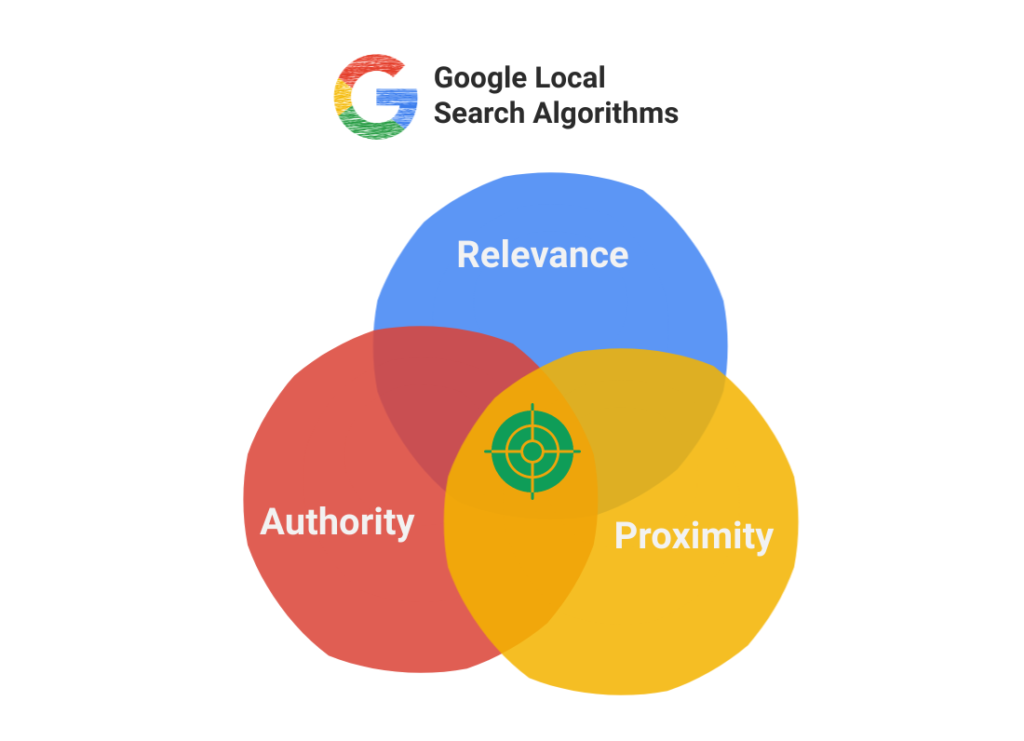 Here is how these three local SEO factors are defined:
Relevance: (Is the content you publish on your website relevant to the searcher?)
Proximity: (Is your HVAC company located in the city where the searcher is looking?)
Authority: (Many factors influence your website's authority, including content quality, site speed, and backlinks.)
---
Google Business Profile
Google Business Profile signals are among the most crucial for local SEO.
Making sure your company is featured on Google's business profile with accurate information and photos of your business can help you break into the local three-pack.
Aside from your website, it's arguably your second most valuable web property. And with listings showing prominently in Google's search results, it's more important than ever.
Tips for optimizing your Google Business Profile:
Keep your GBP profile up to-date, Fill out all of the fields that Google provides.
Select the appropriate category. For example, HVAC contractors or air conditioning contractors.
Add photos of your company and include keywords in the image captions.
Get more online reviews for your business.
Keep your name, address, and phone number ('NAP') information consistent across all of your web domains.
This will ensure that customers looking for an HVAC contractor in your region reach you first – instead of one of your competitors.
---
HVAC Directories
Google and Bing sometimes rely on local data sources for additional information.
These data aggregators will be used by search engines (like Google) to fill in gaps in their databases and cross-reference information to make sure it's accurate.
For this reason, your physical contact information must be current on all of your online listings.
Here are the best business listings for HVAC contractors:
Level Up Your HVAC Marketing With Unbind Media
Consumers utilize the Internet to find anything and everything they're looking for, including HVAC services.
If you want to start using digital marketing to attract more customers for your HVAC business, We can help.
At Unbind Media, we provide a wide range of digital marketing services. Contact us today and we will help you get started.