1. Keep your website fresh and responsive
In today's digital world, a high-quality website is the most quintessential part of your business,
Your website is your virtual storefront.
And all other marketing strategies are in place to lead potential clients right back to your website.
By all means, invest in a website that reflects your company's personality; the key is to present a professional yet functional web page.
Your potential customers should be able to connect your website's aesthetics with the remodeling service you provide.
Keep in mind that the website cost shouldn't break the bank! Try to keep your expenses down by finding a freelancer or a small company to work with (A Large agency usually means a hefty price tag).
All in all, the main focus of all remodeling contractors' and builders' should revolve around:
Responsive web page.

List of services.

Company's portfolio.

Contact us page.
2. Search Engine Optimization (SEO)
Now that you have a website for your remodeling company. What's next?
Study shows that 90% of pages on the internet get zero organic traffic.
This means implementing a solid SEO strategy would only give you the upper hand over your competitors.
Organic search is where your potential clients are already looking.
Your website designer should've helped lay down basic SEO infrastructure.
However, it's your responsibility to make sure you're visible and can be found online, title tag and meta description are up to date, images and website are optimized for speed while aligning your page content with search intent. 
Always be proactive and try to keep an eye out for algorithm changes. Constant monitoring is essential to stay ahead of the competition.
We know Google makes hundreds of algorithm changes every year, which is why your web page should be up to date. A professional SEO agency will help ensure that you don't fall behind in the game.  
3. Blog consistently
Google sorted out the messy internet becoming the most dominant player in search.
For many people, it's the one-stop shop for all search-related queries. 
Potential customers should easily find your business online for your business to thrive. One of the easiest ways to help boost your online footprint in search engines is posting stellar content in the form of blog posts.  
Your active blog will keep your website content fresh and current and boost your overall SEO strategy. This will increase the search visibility of the keywords your customers search to find your service.
We highly recommend routinely blogging. Set a content calendar for bi-weekly or weekly blog posts.
It would help to create a series of different articles showcasing the latest home remodeling trends. Get the most bang for your buck by sharing blogs on social media platforms.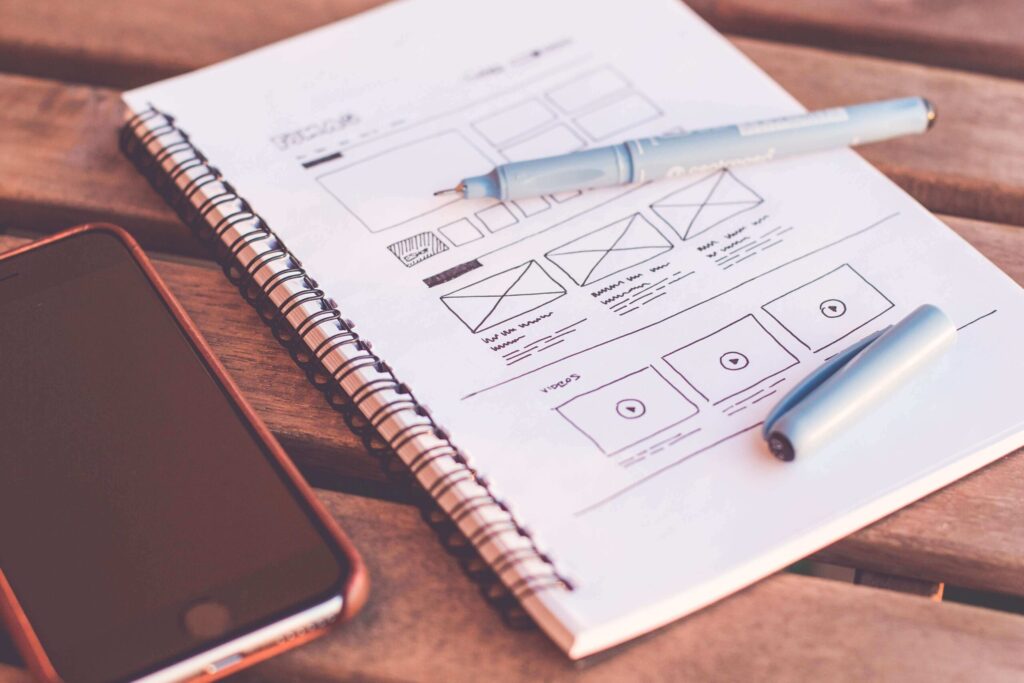 4. Be active on social media
Social Media is hands down the most critical and influential virtual outlet, not only for personal social networking but also for business. It's a great tool to advertise your remodeling company, create brand awareness and get your name out there.
It's not easy to be active on all social media and run a business simultaneously. We suggest focusing on the top 1 to 3 sites where your target market is actively engaging. 
Post project photos, company updates, and just about anything related to showcasing your remodeling business to future customers. Most importantly, be consistent; set up a calendar for how many times to post monthly.
One last note, Social Media is a fun and informal space. Keep it fun and casual.
5. Digital advertising
We covered all your basic marketing needs: the next step, digital ads.
Digital advertisements are usually divided into 3 main categories:
Search ads campaigns: Text ads on search results
Search ad campaigns are an excellent tool that allows you to target and reach customers already looking for your remodeling services. Great for generating quality leads, increasing sales, and driving traffic back to your website.
Display ads campaigns: Image ads on websites
Display campaigns are eye-catching and visually engaging while creating awareness and familiarity with your brand. It's a powerful tool for monitoring and tracking your ads engagement. It also allows you to retarget potential customers who have already browsed your web page and are looking elsewhere.
Video campaigns: Video ads on YouTube
A video delivers a massive amount of information in such a short time. It allows you to tell a story and have a tremendous emotional impact on your audience. It is popular among mobile users and vital for bringing qualified leads to your remodeling business.
6. Always Track, Test, Tweak, Repeat
Simply put, more data leads to better decision-making.
You can't maximize the business opportunity you failed to measure and track. This is the golden rule for every successful marketing campaign, and it's the bridge that leads to your business goals. 
Track – using various tracking tools, you'll be able to track the performance of your website. This provides crucial data allowing you to measure the performance of your campaign and restrategize accordingly.
Test – People respond to ads; differently. You should constantly be testing different variations of your campaign. The goal here is to identify the best-performing version of your ad.
Tweak – Consistently tweak and enhance the processes for optimal campaign performance.
Repeat – Repeat the process with relatively different contrasts to enhance the results of your campaigns' quarterly results.  
Final thoughts
It's hard for businesses to prosper or even stay afloat in this day and age without the right marketing strategy in place.
It was pretty easy once upon a time. Just get a print ad published and watch the phones as they start ringing.
Nowadays, studies indicate that Internet users spend at least 7 hours a day online, and when they require any remodeling service, 96% head straight to google rather than the Yellow Pages. 71% of people choose blogs and articles as a means of information instead of print ads and billboards to learn more about your remodeling business.
Online reviews on platforms like Google, Facebook, and Houzz are vital for remodeling companies to generate leads.
If you need help implementing a new digital marketing strategy, we got you covered. Unbind Media offers digital marketing services for home and commercial remodeling contractors. Get in touch with our team and we will help you get started. Creating easy-to-follow plans and tracking to-do lists is what we do best!