The way we search online is continuously changing.
For one thing, Voice search seems to be reshaping how we search online.
But how?
According to Emarketer, in 2019, approximately 112 million in the U.S. used voice assistants monthly. That is, roughly 40% of all internet users and 33% of the total population.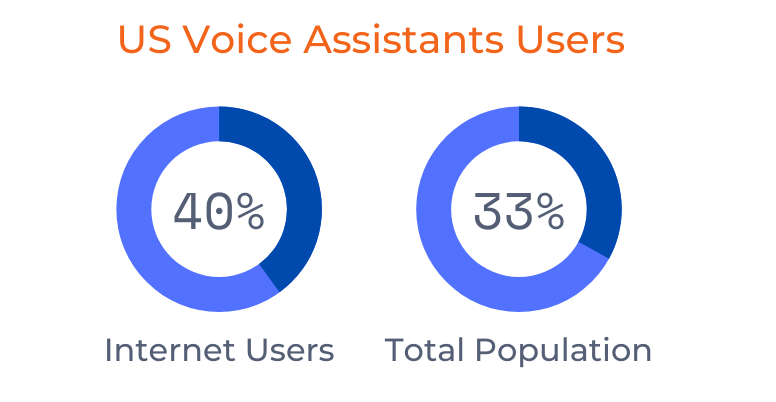 By the end of 2021, voice search will grow by 9.6% in popularity, increasing to 122 million users. 
The appeal of voice interaction is undeniable. Currently, It is the fastest-growing type of search, with 41% of adults and 55% of teens using voice search daily (Google).
So, how do you optimize your website for voice search?
Let's dive right in.
What Is Voice Search?
Voice search is a technology that allows you to search the web hands-free by speaking into a device or to a virtual assistant using just the sound of your voice.
These devices can be smartphones, smart-watches, or even home speakers. 

With the development of intelligent personal assistants, such as Google Assistant, Alexa, Siri, and Cortana, We can see the rise of voice technology unfolding before our very eyes.
A study from Juniper Research has found that 8 billion digital voice assistants will be active by 2023, increasing from an estimated 2.5 billion at the end of 2018.
Google is close to transforming voice search into "an ultimate mobile assistant."
With Voice search evolving from voice recognition to voice understanding, we will soon be interacting with super-intelligent virtual assistants.
Voice Search Is Snowballing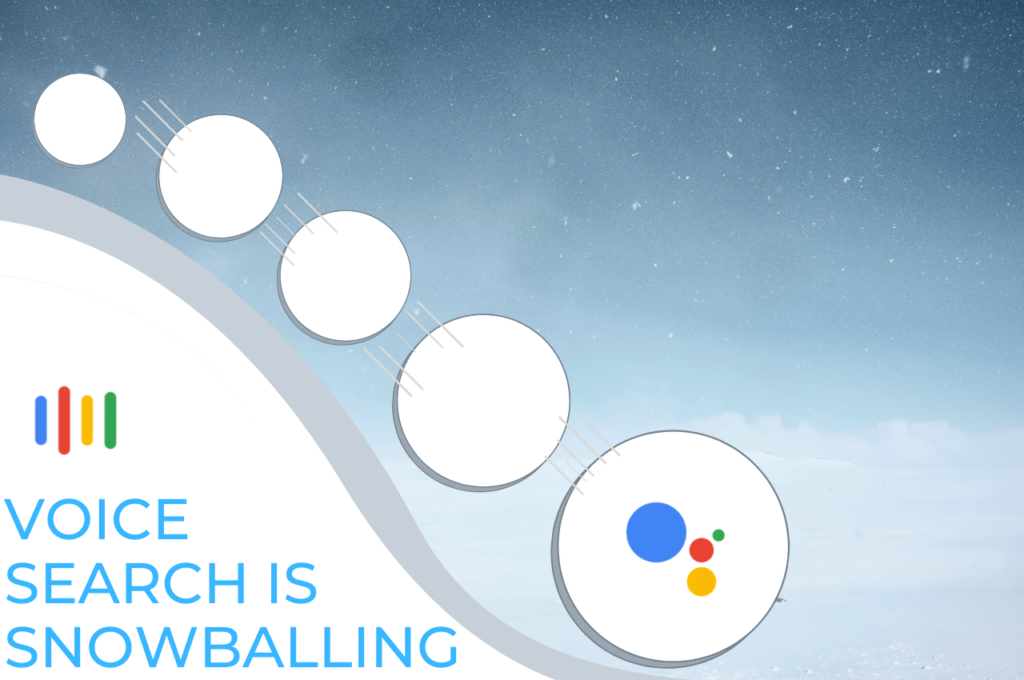 Voice search technology is improving fast, and consumers seem to be doubling down as well.
To illustrate, let's look at some statistics:
The use of voice search increased by 35x from 2008 to 2016 (Kleiner Perkins)
65% of consumers ages 25-49 years old speak to their voice-enabled devices daily (PwC)
53% of voice-activated speaker owners report it feeling natural to speak to it (Google)
To explain, smart speakers such as Google Home or Amazon Echo are the main drivers of the rapid growth of voice technology.
A recent consumer survey by Voicebot found that 87.7 million U.S. adults were using smart speakers in January 2021. 
That is to say, roughly 26.7% of American households use smart speakers as of Jan 2021, and while some Households are reluctant to utilize smart speakers, others rarely look back.
Another critical point is that the installed base of U.S. smart speakers users is up 32% over January 2019 and is 85% higher than January 2018, according to Voicebot.  
Voice search technology is advancing rapidly, and it's only getting better.
Most importantly, the time to optimize your business for voice search was yesterday, but it's never too late.
We put together a list of 28 astounding voice technology statistics. Check it out.
How To Optimize Your Website For Voice Search
Very simple, in just one step:
"Hey, Google," could you please optimize my website for voice search. That's it.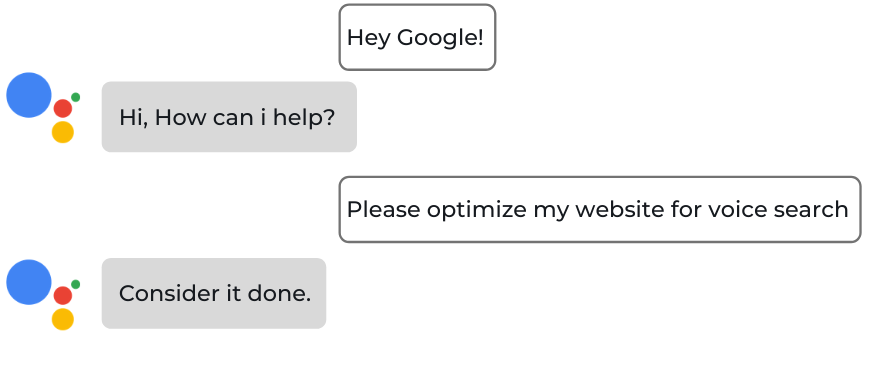 And while we're still not there yet. It could be possible sooner than you think.
But for the purpose of this article, let's get back to the year 2021
Here are a few steps to help you optimize your site for voice search:
Create Content With Natural Language
Today, Search algorithms are better, faster, and wiser.
With computer science, computational linguistics, and artificial intelligence combined, search engines can recognize natural language in text and enhance speech recognition.
Essentially, search engines are already guessing the intent behind your query when you're searching online. And it's becoming better day by day.
People love asking questions in the hunt for answers. It's our natural way of interaction. Like real-life conversations, We use natural language to form questions to voice assistants. 
Machines understand the spoken command by utilizing speech recognition and conversational A.I. elements such as answering questions, giving directions or recommendations.
Your target audience will most likely ask questions in simple words to find your business. It's critical to create content with natural language for machines to work their magic, find and deliver your content to potential clients.
Optimize For Mobile & Local Search
We are in a mobile-first world where people use devices to search the web.
Mobile and local work together in harmony when it comes to voice search.
In fact, 58% of consumers used voice to find information on a local business.
And according to Google, 20% of all mobile queries are voice searches.

What does it mean for your business?
It means that you need to maximize your marketing efforts for your Local SEO while ensuring a steller mobile strategy. 
It's also crucial to update all your business listings online so that voice assistants deliver the correct information to your potential clients. 
Create Pages That Answer FAQs
The majority of voice searches are made in the form of a question using natural language.
Your content needs to provide the best possible answers to your users' questions to increase your chances of appearing in the voice search results.
Generally, Voice search users ask questions that mostly begin with:

To answer these questions, create a Q&A page that answers the most frequently asked questions conversationally and start each question with these adverbs.
This strategy will help you provide sufficient information about your business, products, and services while maximizing your probabilities to be found online using voice search.
Improve Your Website Speed
A study by Backlinko found that PageSpeed seems to play a significant role in voice search SEO. The average voice search result loads in 4.6 seconds.
That is 52% faster than the average page.

This means, Your website loading speed plays a crucial role in search result ranking, both text and voice search.
In the same fashion, Voice searches are on the hunt for instant results, and if your website is slow to load, your content won't be used by search engines to answer voice-based queries.
To check your website speed, use the Google Speed Insights tool to help you understand your current speed score.
For more information on page speed, check out our 3 simple tactics to improve page loading speed.
Claim Your Google My Business Profile
If you haven't claimed your free Google my business account, now is the time.
Your potential customers are most likely asking questions linked to your business. A Google my business account will help you optimize for those questions.
But how?
Google typically pulls answers to those questions from your Google my business account.
It's Imperative to make sure that your business information is complete and as accurate as possible to show up for voice search.
Lastly, focus on enhancing your local SEO strategy and targeting how people phrase their questions to find your business.   
Is Your Business Ready for Voice Search?
Voice search is, without a doubt, on the rise. It would be unwise to ignore this trend. Many variables are in play when optimizing for voice search, from creating content to local SEO.  
If you need assistance with your overall SEO strategy, we're here to help.
At Unbind Media, we make data-driven decisions to help you dominate in your industry. We can support you in exceeding your business goals and surpassing your competitors.
Get in touch with our team, and we will help you get started.