Search engines consistently crawl the web to organize and index data to display the most relevant results to searchers.
With this in mind, search engines must first understand that your website offers home remodeling services to display your content to potential customers. 
Schema markup or structured data Is like a business card for your business. For one thing, It makes it easier for search engines like Google to read and rank your website.
So, how can you leverage structured data to gain more visibility?
Let's dive right in.
What Is Structured Data?
Schema markup, also called structured data, is a set of information organized in a particular manner on a web page. In 2011, search engine giants including Google, Bing, Yahoo, and Yandex created Schema.org.
According to Wikipedia, Schema.org is a collaborative community activity with a mission to "create, maintain, and promote schemas for structured data on the Internet, on web pages, in email messages, and beyond."
As a result, Schema code is the universal language used and understood by all search engines.
For instance, You can use the General contractor schema type to make it easier for Google to list your correct phone number, business address, and business type. Overall, Structured data will help increase your online visibility and enhance your overall SEO efforts.
Types Of Structured Data
Important to realize, There are 3 different types of structured data. Google search supports the following formats: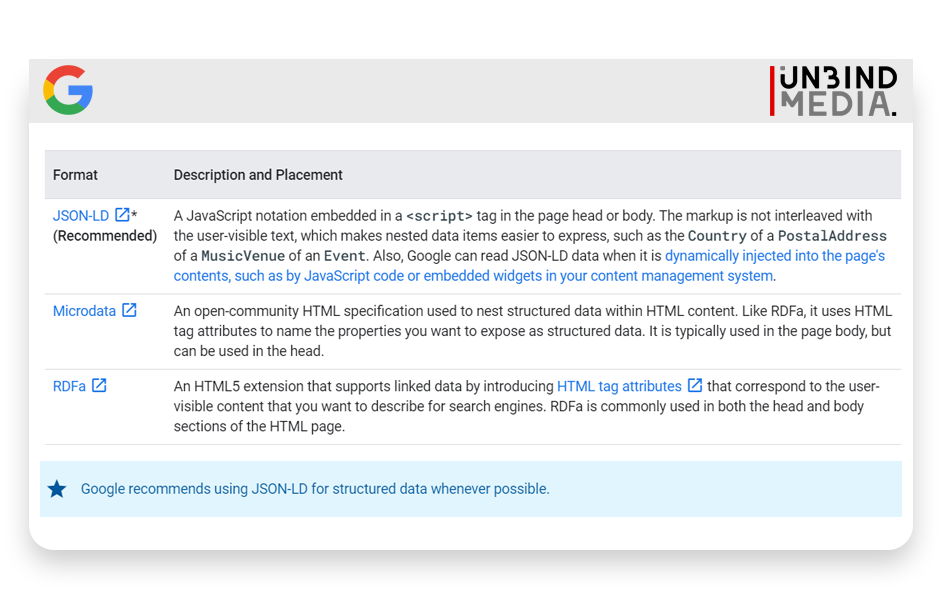 According to Google, we recommend using JSON-LD as it's the preferred structured data format.
How Can Structured Data Help Remodeling Contractors?
Boost online presence – Structured data use rich snippets to help increase your online presence in search engines. As a result, It will help improve your click-through rate and, in turn, drive more relevant traffic to your website.
Improve your SEO efforts – Schema markup helps search engines understand your web page's content. Thus, it enables you to stand out from the crowd and potentially rank higher on the search engine results page.
Generate more rich snippets – Used to make your website attract attention in search results. Including (rating, Starts, images, reviews, availability, etc.) Showing additional information mixed with eye-catching visuals gives you more real estate in the search results.
Optimize Local SEO – Schema markup is an outstanding feature to boost your local presence in google my business. Not to mention, your business information will be up to date for local search. Additionally, check out our article Local SEO for remodeling contractors for more information.
Schema Markup Tags For Remodeling Contractors
Ultimately, you can visit Schema.org to get a long list of item types for a general contractor. However, these are the most crucial and the least you should include:

Business name
Business type
Website URL
Business Address
Official company logo
Business description
Social accounts
To illustrate, Here is an example of Home and Construction Schema: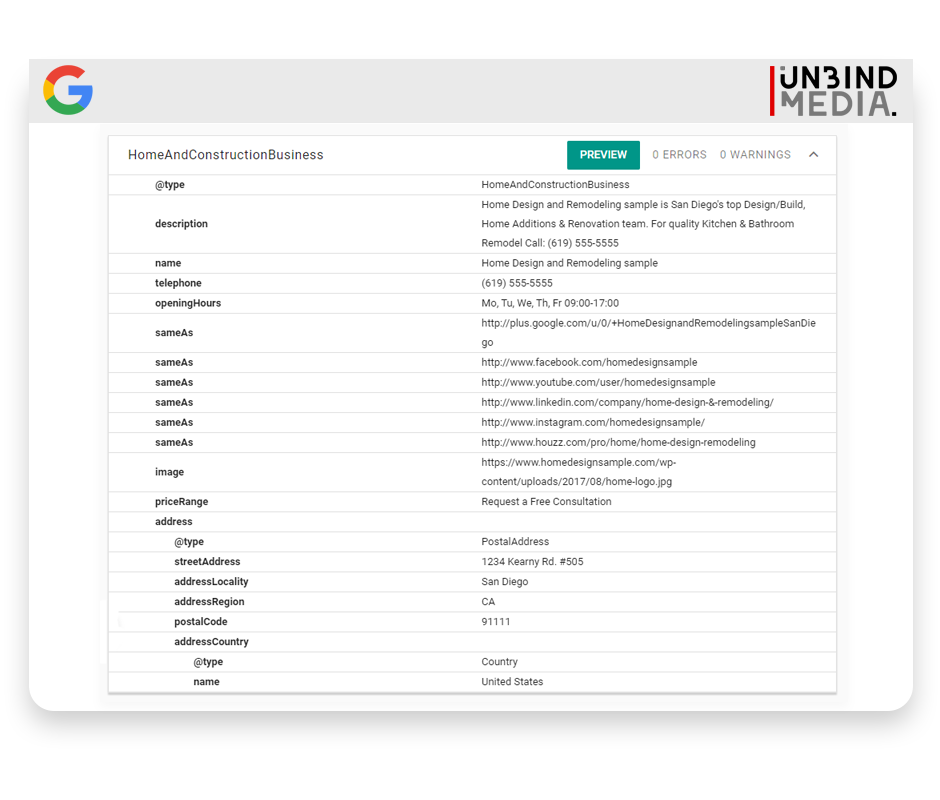 Structured Data Quality Guidelines
There are a few Guidelines implemented and enforced by Google. Surely, Having a low-quality score could hurt your website ranking or possibly cause spam issues with your structured data. That is to say; you should always follow Google's Quality guidelines to prevent your website from being flagged.
The critical takeaway from Google's Quality Guidelines:
Content
Provide relevant and up-to-date information.
Produce original content.
Only include markup content that is visible to readers of the page.
Be genuine; avoid misrepresenting or misleading users.
Relevance
Your structured data should be relevant to your business.
Completeness
Include all required data for your rich results.
The more data you provide, the higher quality of the rich results would be to users.
Location
Place structured data on the page related to it.
Use the same structured data for pages with similar content.
Specificity
Use the exact schema type and property names available on Schema.org.
Images
Be sure to add images that belong to that specific property.
All images and URLs must be crawlable and indexable.
Enhance your overall SEO efforts with Unbind Media
Finally, We hope by now you understand the foundation of Schema markup and how it could boost your SEO efforts.
At Unbind Media, we help home remodelers generate more leads and improve their online presence. If you need help implementing a new digital marketing strategy, we got you covered.
Our team will help you create a tailor-made strategy exclusively for your business. Let us know, and we'll be happy to assist.